December 7, 2020
Roberto Arteaga
,
UC Newsroom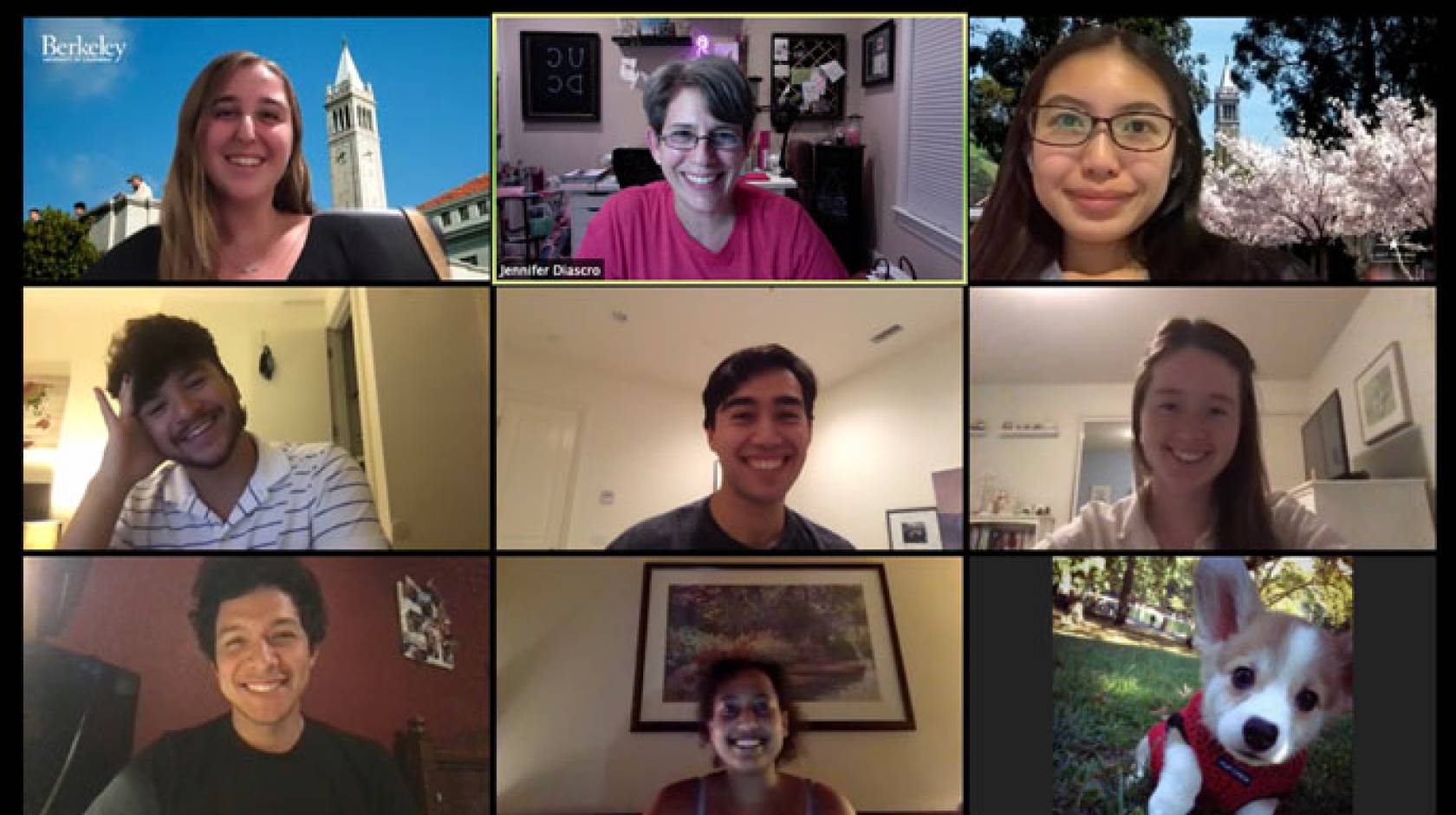 What started off as a regular year quickly turned into something no one expected: A worldwide pandemic. With so many unknowns, the entire UC community had to rapidly adapt. For UC undergraduates gearing up for the fall's University of California Washington Program (UCDC), the uncertainty was real.
However, thanks to modern-day technology, the program continues, helping students remain connected — but in a unique way. In any other year, approximately 200 UC students would have taken the 2,500-mile flight to the nation's capital and would currently be in the middle of their academic journey. This year, across the university, proved to be different.
"It's hard to wrap your head around the idea of a Washington, D.C., program that doesn't take place in Washington. We needed to make adjustments like every other campus,'' said Marc Sandalow, the program's associate academic director.
UCDC adapted and is up and running, welcoming nearly 75 students from UC's nine undergraduate campuses to the world of remote UCDC: A program that provides enriching academic opportunities in the form of a professional development speaker series, in-depth coursework, and at the heart of the program, meaningful internships — all with a focus on the Washington, D.C., experience.
"We knew we could offer some of the same things we do in person — professional experience, classes taught by prominent practitioners, high profile speakers — but we weren't certain that students would be interested without physically being here,'' Sandalow said. "We were pleasantly surprised.''
One thing is certain: UCDC is here to stay. The winter term, which will also be remote, already has 181 students enrolled.
What's happening with the internships?
The internship component of the program is what attracts most students. Working to coordinate a range of internships, UCDC staff reached out to hundreds of organizations throughout Washington, D.C., to ensure that students still have access to a wide range of opportunities.
Thankfully, many D.C.-based organizations — struggling with the same uncertainty of when they will reopen in-person — have embraced the online environment and created remote internships. These internships range from nonprofits to think tanks to congressional offices; they've all tailored their programs so that students can gain valuable experience, even in a different time zone.
"I'm currently interning for Congressman Jared Huffman. It's going really well!" said Sabrina Carreno, a current UC Santa Cruz student. "I'm enjoying speaking to constituents in my area and seeing their concerns."
Carreno found her congressional internship through the UCDC internship database and was thrilled to land her top choice. "I've enjoyed it a lot because I've been fortunate to correspond with both the D.C. and California teams and see the work being done within my community."
Robin Reikes was also excited to secure an internship with a Washington, D.C.-based nonprofit organization.
"As a fourth-year at UC Santa Barbara, I wanted to use UCDC as an opportunity to build a network through my internship at the Brady Campaign United Against Gun Violence," explained Reikes, who hopes to create meaningful connections to support her career goal of crafting legislation to prevent gun violence.
"It was exactly what I was looking for,'' she said. "Gun violence policy is my top policy area I'm most passionate about. To find this internship, especially during COVID, and have it all work out was really important to me and it's been really great."
What's the coursework like?
While normally UCDC classrooms are housed at the UC Washington Center, just blocks from the White House, classes have transitioned to remote instruction, with a commitment to the same in-depth discussions on contemporary political issues. UCDC seminars are led by professors who bring their on-the-job experience into the classroom.
Fall 2020 classes range from challenges within the Supreme Court to understanding Washington, D.C., media to seeing how Congress responds in a time of crisis. John Lawrence, former chief of staff to Speaker Nancy Pelosi, is teaching a research seminar examining the organization and operations of Congress with a focus on the 2020 election. Lawrence brings his real-world experience to the classroom by facilitating discussions about the evolving nature of policy, ongoing societal disruptions, the electoral system and more.
With each passing term, courses adapt to current events.
What professional development opportunities are being offered?
UCDC is committed to bringing as much of the in-person experience as possible to the remote environment. Since networking is an important part of the experience, the UCDC Mentorship Program pairs students with Washington, D.C.-based UC alumni who have similar interests and provides a path for meaningful relationships and career advice, guidance and exploration.
Emily Tran, who is in her last quarter at UC Santa Barbara, is interning at the Pro Bono Institute and was most looking forward to the mentorship program as a way to help her in her post-academic life.
"I'm looking forward to having a mentor that can relate to my law school journey," said Tran. "I really would like someone who has experienced doubt about their abilities after seeing their LSAT scores to reassure me and push me in the right direction for my future aspirations. I feel like the UCDC Mentorship Program will provide that for me." More than 50 of the fall students were paired with alumni mentors.
UCDC also helps students hear directly from influential figures and knowledgeable staff through its weekly Speaker Series. The series is open to all UCDC students who can listen in on a range of topics, from learning how to grow your online network to hearing what life on the campaign trail is like. This term, the series has virtually welcomed individuals such as Madeleine Albright, former secretary of state; Symone Sanders, senior advisor to the Biden Campaign; Congresswoman Karen Bass, chair of the Congressional Black Caucus; and Tim Uyeki, chief medical officer for the Centers for Disease Control and Prevention's Influenza Division. The series is always changing and in in recent years has welcomed individuals such as Congresswoman Nanette Diaz Barragán, a UCDC and UCLA alum, and Justice Sonia Sotomayor.
UCDC: An investment in your education
There's no denying that being able to walk past the White House or across the Capitol Complex, or snapping a photo in front of the Lincoln Memorial, is a draw for the program. And while such experiences cannot happen in-person to protect our health, UCDC is working hard to recreate experiences by inviting notable guest speakers to lecture and tour areas of Washington, D.C., via Zoom.
The UCDC remote program is an investment in expanding professional networks, obtaining new skillsets and gaining insight into Washington, D.C., life.
"I would recommend students do the program!" said Carreno. "I think, ultimately, it's a good investment — it allows students to use their skills obtained through their UC classes and apply them in the workplace. And experience is everything!"
About the author: Roberto Arteaga is in his last semester at UC Berkeley. He is currently participating in the virtual UCDC program where he is an intern in UC's Office of Federal Governmental Relations.