July 20, 2023
Carolyn McMillan
,
UC Newsroom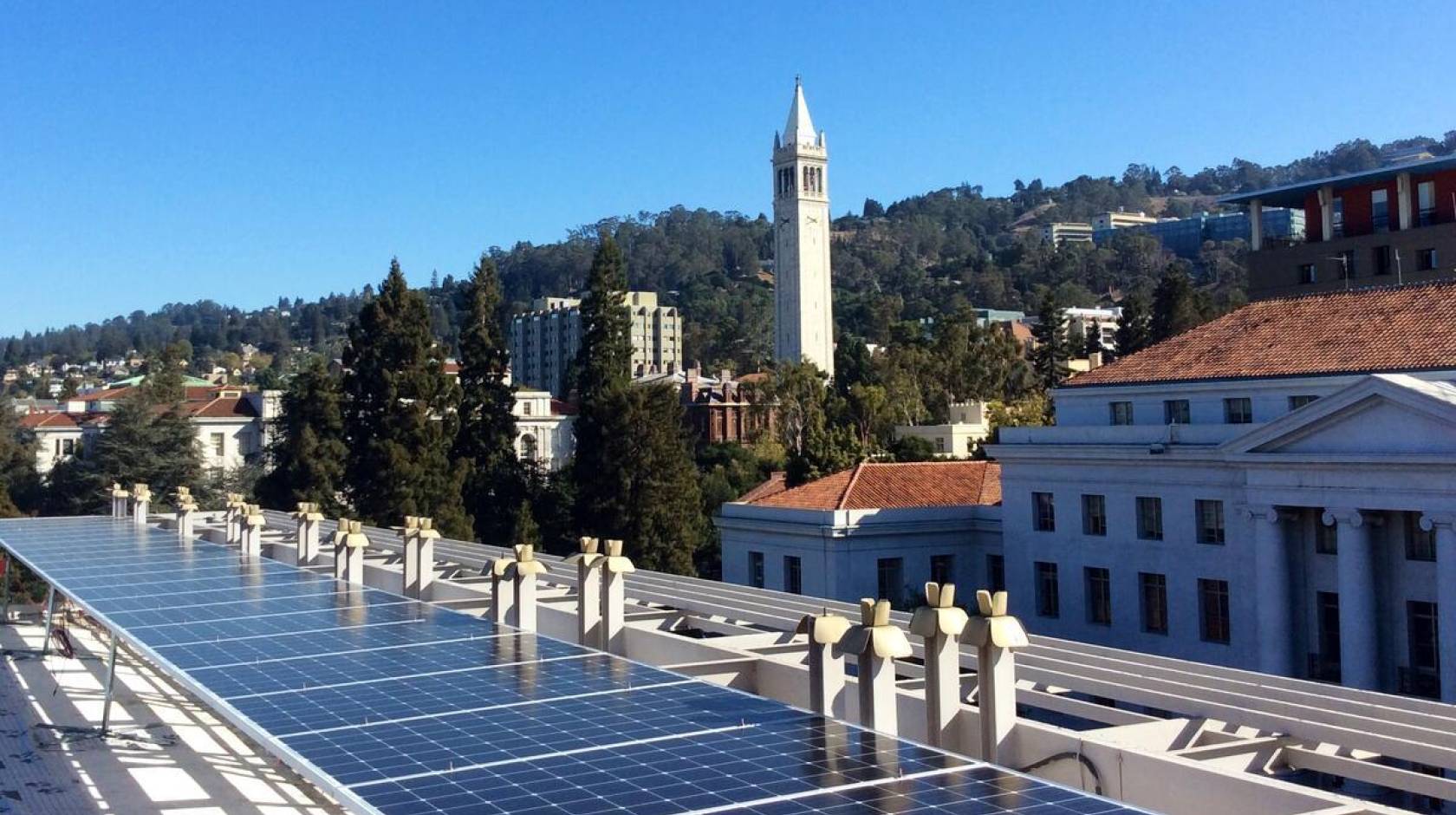 To accelerate its transition away from fossil fuels, the University of California has adopted new, stronger climate action goals that prioritize direct emission reductions, limit the use of carbon offsets and align UC's climate goals with those of the state of California.
The new goals build on UC's already significant achievements in cutting greenhouse gas emissions and transitioning to clean, carbon-free electricity, said University of California President Michael V. Drake, M.D.
"Climate change is one of the most urgent challenges of our time, and this new policy extends the University of California's leadership in addressing the crisis," President Drake said. "It reflects the best current science and aligns the University's ambitious new goals with those set by the state of California. It also provides UC locations with the flexibility to enact decarbonization plans that account for their specific circumstances and challenges."
UC's carbon emissions are now 30 percent lower than they were in 2009, despite significant growth across the University. Those reductions are the result of concerted efforts at every campus, including energy efficiency programs that have saved UC more than $400 million in energy costs, and the deployment of more than 100 on-campus solar projects.
The University of California even runs its own power company, allowing it to deliver clean, carbon-free electricity to seven of its campuses at below market rates. By 2025, all 10 campuses and six academic health centers will use 100 percent carbon-free electricity and will be accelerating efforts to eliminate their remaining sources of greenhouse gas emissions.
The new climate goals capitalize on those achievements, said David Phillips, UC's associate vice president for Capital Programs, Energy and Sustainability.
"UC has had significant success in becoming more energy-efficient and transitioning to renewable and carbon-free electricity," Phillips said. "The biggest challenge going forward is phasing out natural gas for heating, cooling and electricity generation. Under UC's refined climate action policy, campuses will be encouraged to urgently decarbonize campus central plant operations, which are the primary source of natural gas combustion."
About 80 percent of UC's remaining carbon emissions come from natural gas combustion, he noted.
"The University of California is showing ambitious leadership in directly decarbonizing all parts of its operations, not just the lowest hanging fruit. Eliminating natural gas emissions, and sharing the lessons learned along the way, will provide great benefit to other universities and other sectors across the country." said Tim Carter, president of Second Nature, a nonprofit organization that supports climate leadership in the higher education sector.
President Drake last fall created the Pathways to a Fossil-Free UC Task Force, under the purview of the Global Climate Leadership Council, and tasked members with convening stakeholders — including students, faculty staff and administrators — across the University on the best path for accelerating UC's decarbonization efforts.
The refined climate policy grew out of those efforts, with extensive input from sustainability officers across the system, and was also reviewed and approved by the Sustainability Steering Committee, which oversees UC's Sustainable Practices Policy, before being authorized by UC President Drake.
The new policy goals supersede UC's 2013 Carbon Neutrality Initiative and put in place a framework and timetable for UC campuses and academic health centers to fully decarbonize no later than 2045, while hitting progressively significant reductions in greenhouse gas emissions by 2030, 2035, and 2040.
State-funded decarbonization studies are already underway at all 10 campuses, including six affiliated academic health centers, that will inform strategies, emission targets and location-specific climate action plans.
Phillips and other UC leaders expect that some campuses will achieve decarbonization goals well ahead of the 2045 deadline. In fact, electrification and decarbonization projects are already underway at several UC campuses:
UC Berkeley is replacing its natural gas-fueled co-gen plant, which supplies 90 percent of campus energy, with a clean energy microgrid. The first phase is on-track to be completed by 2028 and includes a new electrified heating and cooling central plant, distribution to the most energy intensive buildings, and a 70 percent reduction in building energy carbon emissions.