September 17, 2019
Carolyn McMillan
,
UC Newsroom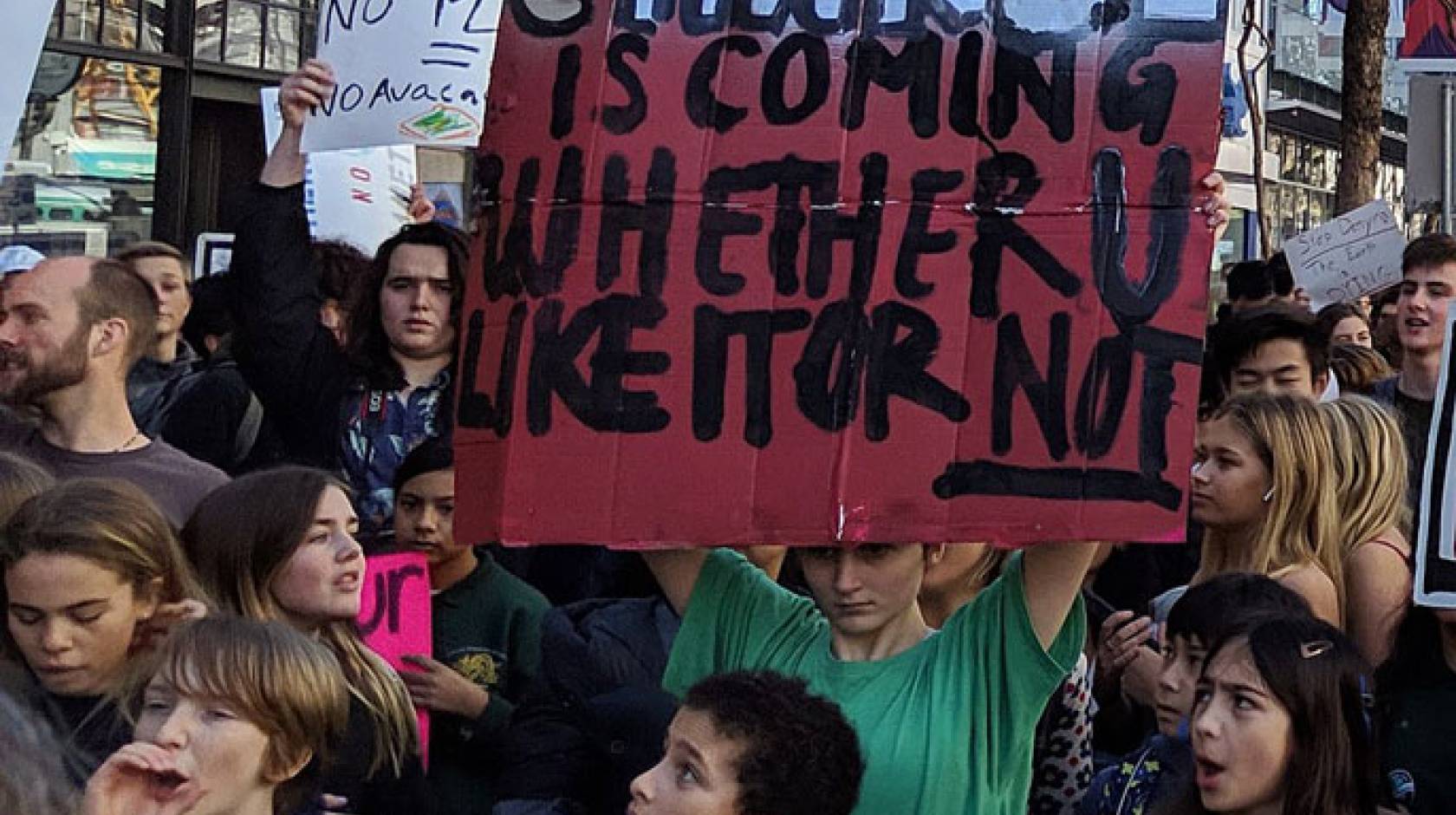 Credit: Intothewoods7/CC BY-SA 4.0
The University of California has joined forces with more than 7,000 colleges and universities around the globe to declare a climate emergency and commit to urgent action to address the crisis.
UC President Janet Napolitano and all 10 UC chancellors have signed a climate emergency declaration letter that recognizes "the need for a drastic societal shift to combat the growing threat of climate change."
In signing the declaration, UC leaders agreed to a three-point plan that includes increasing action-oriented climate research; expanding education and outreach on environmental and sustainability issues; and achieving climate neutrality, a goal UC expects to achieve by 2025, five years ahead of the declaration's pledge.
"We have a moral responsibility to take swift action on climate change," said UC President Napolitano. "This declaration reaffirms UC's commitment to addressing one of the greatest existential threats of our time. It's important that universities speak with one voice about the urgency of the climate crisis and that we work together to find solutions."
The move comes as people around the world are expected to take to the streets for a global climate strike on Sept. 20, with the United Nations 2019 Global Climate Summit shortly after, on Sept. 23. Nations at the summit are being asked to present their concrete plans for reducing greenhouse gas emissions by 45 percent over the next decade, reaching net-zero emissions by 2050.
The climate emergency declaration has been signed by education institutions on six continents in an unprecedented show of unity. The effort was organized by the Alliance for Sustainability Leadership in Education, known as EAUC, a U.S.-based higher education climate action organization; Second Nature; and the U.N. Environment's Youth and Education Alliance.
"What we teach shapes the future. We welcome this commitment from universities to go climate neutral by 2030 and to scale-up their efforts on campus," said Inger Andersen, executive director of UN Environment in a press release. "Young people are increasingly at the forefront of calls for more action on climate and environmental challenges. Initiatives which directly involve the youth in this critical work are a valuable contribution to achieving environmental sustainability."
Organizers expect that by the end of the year, when the United Nations meets in Santiago, Chile for COP 25, more than 10,000 educational institutions will have signed on.
At UC, sustainability and environmental stewardship have long been core values. One of Napolitano's first acts as UC president was a bold commitment that the university would achieve operational carbon neutrality by 2025. In pursuit of that goal, UC has rapidly expanded its use of solar power and other renewable and carbon-free sources of energy.
Researchers across UC have also come together to propose scalable solutions to climate change, work that influenced California lawmakers to adopt strict new standards for short-lived climate pollutants and provided the foundation for an online course at six UC campuses, along with a just-published electronic textbook.
The 10-campus system has also just taken steps to de-carbonize its endowment funds. UC's $13.4 billion endowment will be "fossil free" by the end of September, as will its $70 billion pension.
This isn't the first time that UC has partnered with other higher education institutions to address global warming. Last year, Napolitano spearheaded the formation of the University Climate Change Coalition, or UC3, a group of 21 North American research universities that help local communities transition to a low-carbon future.
And later this fall, UC will join with the California State University system and a coalition of leaders from state education agencies, community-based organizations and K-12 schools at a summit on environmental and climate change literacy in the K-12 public school system. Organizers have set their sights on a plan to ensure that all California students learn about environmental and climate change issues and solutions.
Photo credit: Intothewoods7/CC BY-SA 4.0