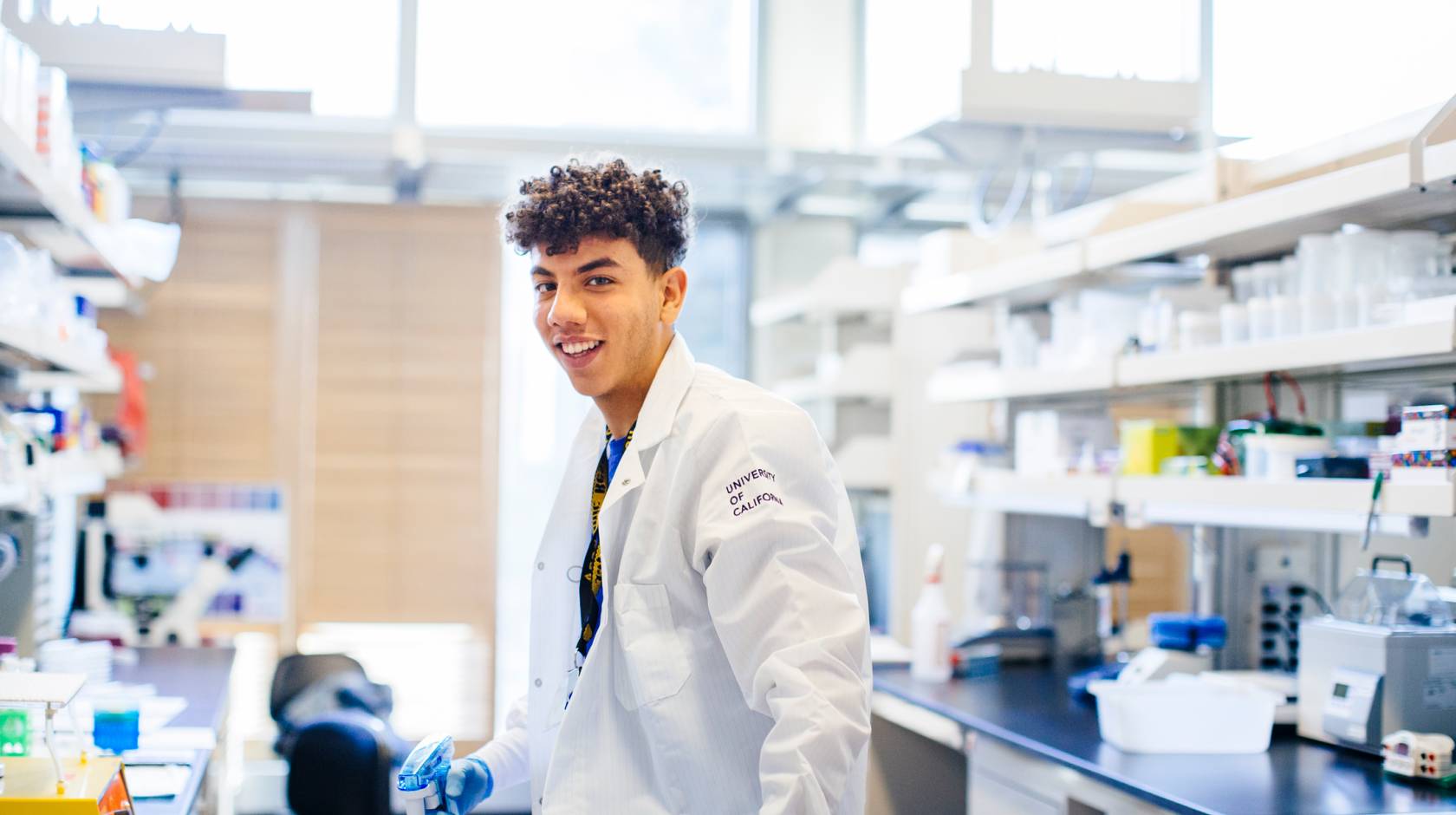 Credit: Elena Zhukova/University of California
The University of California has become the nation's first university system to join the American Association for the Advancement of Science's STEMM Equity Achievement Change program, or SEA Change.
The SEA Change initiative focuses on eliminating systemic barriers to participation in science, technology, engineering, mathematics and medicine, collectively known as the STEMM fields, and fostering engagement with communities underrepresented in — and historically excluded from — those fields.
Three UC campuses — UC Davis, UC Irvine, and UC Santa Cruz — are charter members of SEA Change. On May 24, UC leaders announced that the full 10-campus system has now joined the effort.
"This program continues our campuses' intentional efforts to increase diversity and remove barriers to participation in STEMM," said UC President Michael V. Drake, M.D. "SEA Change will strengthen our work to train, recruit and retain a diverse professoriate, which will ensure that UC continues to be a leader in high-caliber medical expertise, cutting-edge research and exceptional education while reflecting California's rich diversity. UC looks forward to working with AAAS on this important effort."
Although some diversity, equity and inclusion efforts focus on advancing opportunities for individuals from groups that have been marginalized or excluded, SEA Change focuses on changing the system itself.
Members of SEA Change undertake an in-depth data collection and self-assessment process to identify barriers to diversity, equity and inclusion for their students, faculty and staff members. Then, they use those findings to establish a five-year action plan with clear goals and metrics.
The action plans are shared with external reviewers who evaluate the award application and can recommend an initial Bronze rating to the campus. SEA Change requires that institutions renew their award every five years to demonstrate progress and assess whether a campus stays at the Bronze level or moves upward in ratings to Silver and eventually Gold.
"We are honored to join in this unique SEA Change partnership with the University of California system," said Shirley Malcom, Ph.D., senior advisor to the CEO and director of SEA Change at AAAS. "We applaud the many worthy efforts already underway at UC campuses. This new partnership allows them to build on and coalesce around this important work under the SEA Change umbrella. SEA Change looks forward to supporting each individual campus as they 'go for the gold' SEA Change recognition."
Over the next three fiscal years, a UC-wide group will be guided through the SEA Change Awards process. The group will receive training and resource materials to develop new strategies to reduce or eliminate barriers to access and to undertake new research on faculty diversity and inclusive excellence. Each campus will be represented in the cohort by at least one individual who will be recruited through a selection process developed by the campuses.
SEA Change members have lauded the program for integrating the often-siloed diversity, equity and inclusion work that takes place across departments and schools and for connecting institutions facing similar challenges and opportunities with one another to share best practices.
"SEA Change brings us together under one institutional initiative and helps create a structure within which we work with each other and with other SEA Change institutions," said Tracy Johnson, professor of molecular, cell and developmental biology at UCLA and dean of life sciences at UCLA College.
It focuses on overcoming institutional barriers to participation in STEMM for a wide range of underrepresented communities, including BIPOC, LGBTQ+ and disabled professionals, as well as individuals from disadvantaged socioeconomic and first-generation educational backgrounds.
AAAS' programming will further strengthen and accelerate UC's efforts to recruit, train and retain a culturally competent and diverse faculty, while also enhancing campus efforts to attract promising students to postgraduate opportunities, growing a more diverse STEMM workforce in the process, said Dr. Yvette Gullatt, vice president for Graduate and Undergraduate Affairs and vice provost for Equity, Diversity and Inclusion.
She also noted that the action plans developed by campuses can also be adapted as best practices for other non-STEMM disciplines.
"One of the University's most important priorities is expanding access to an affordable, high-quality UC education," Gullatt said. "The only way we can make that goal a reality is by making intentional efforts to mentor and recruit an excellent and diverse faculty. As a system, we will continue to enhance and accelerate our efforts to build a professoriate that truly represents all identities and perspectives, especially in STEMM fields that have historically marginalized diverse professionals."
Read the press release:
UC strengthens efforts to remove barriers to STEMM, works to accelerate progress in diversifying professoriate by becoming first charter University system in SEA Change