July 21, 2022
Carolyn McMillan
,
UC Newsroom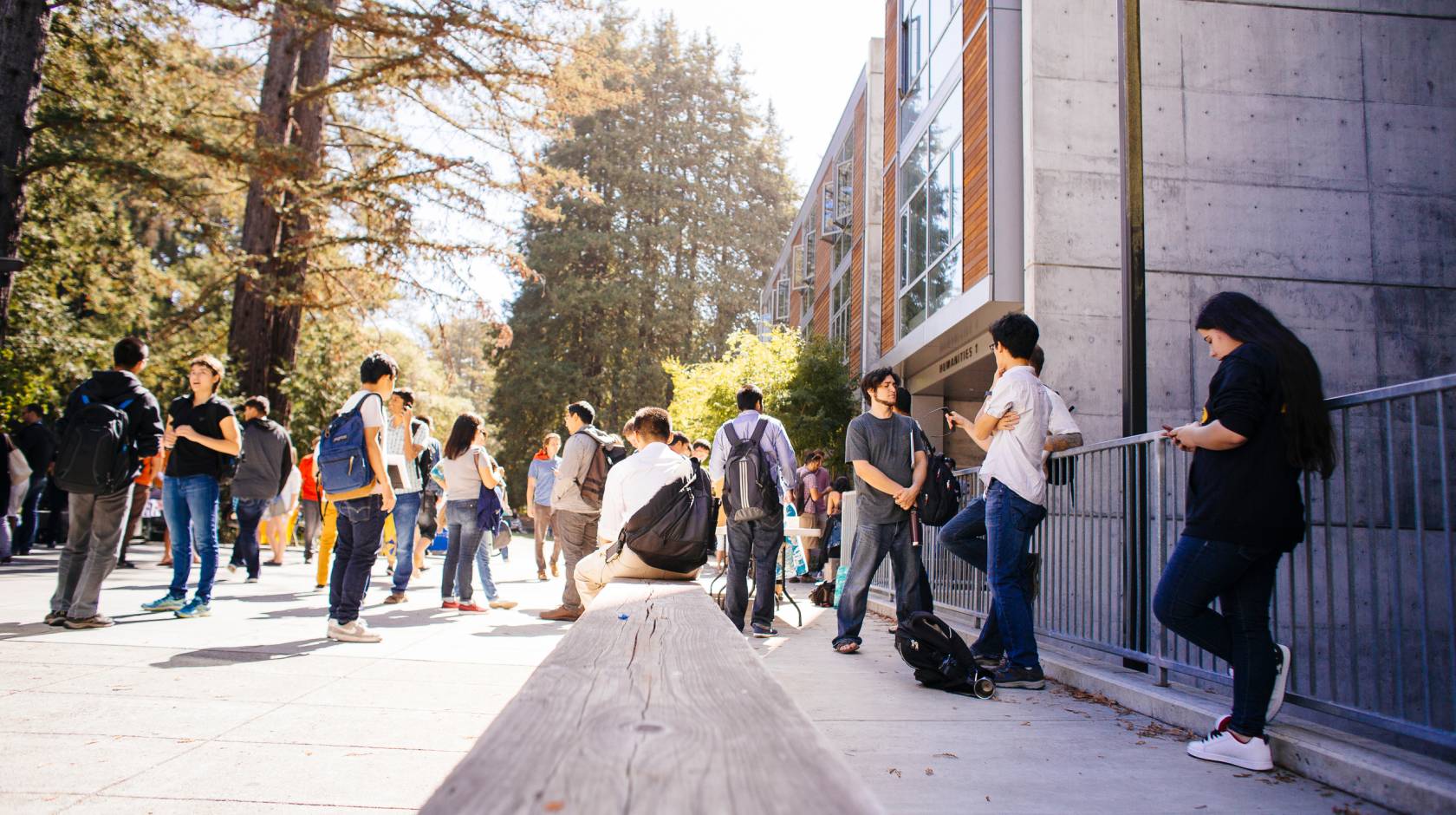 Credit: Elena Zhukova/University of California
Against the backdrop of record-breaking student applications, University of California leaders today (July 21) presented a plan to increase enrollment by 23,000 students over the next eight years — the equivalent of adding another campus to the 10-campus system.
The 2030 Capacity Plan lays out a path to achieve this significant level of growth in an organic, responsible way that considers the needs of campuses and their surrounding communities. The plan relies on a mix of strategies that support the dual goals of increasing access to a UC education for more Californians and supporting students as they earn a UC degree.
The plan, which was discussed at the July meeting of UC's Board of Regents, was developed over the past year by a working group led by UC President Michael V. Drake, M.D., and UC chancellors and their representatives, along with other leaders from the UC Office of the President. Each campus developed an enrollment growth strategy tailored to its unique circumstances. Though campus strategies vary based on their unique opportunities and circumstances, each plan focuses on upholding academic quality and a commitment to diversity, equity and inclusive excellence.
A multiyear funding compact, outlined by Gov. Gavin Newsom in his 2022-23 state budget, provides the resources that UC needs to build toward the bold enrollment growth plan. UC leaders also put forward a second "aspirational" plan that would allow UC to enroll up to 33,000 undergraduate and graduate students by 2030, with the proviso that it would require additional state investments to carry out.
"Our goal all along has been to grow in a way that serves the State of California and meets its future education and workforce needs, while being responsive to each of the communities we call home," President Drake said to the Board of Regents.
"Both options will require significant capital and infrastructure needs, including new classrooms, new teaching labs, and student and faculty housing. They also take into account enhanced use of technology and other, nontraditional means of increasing enrollment."
Planned enrollment growth would include increases in both undergraduate and graduate students. Some of UC's younger campuses, including UC Riverside and UC Merced, propose accommodating additional students through plans that include adding new classrooms, labs, housing and other campus infrastructure.
Other campus plans rely on programmatic solutions that will allow them to enroll thousands more students within their existing campus footprints, including:
Replacing out-of-state students with Californians
Around one-quarter of the anticipated California enrollment growth at UC Berkeley, UCLA and UC San Diego over the next eight years will be achieved by swapping out-of-state students with Californians.

Helping students graduate more quickly
Timely graduation helps students save on college costs and move more quickly into the workforce, while also freeing up space for new students. Yet first-generation college students, low-income students and those from underrepresented demographic groups often take longer to earn a degree. With funding support from state lawmakers, UC undergraduate campuses are scaling up promising programs for closing academic achievement gaps.

Encouraging students who "stopped out" to complete their degrees
A survey of former UC students who left without a degree found that 90 percent were interested in finishing their studies. This fall, UC Merced will pilot a state-funded project that invites former students to participate in a hybrid certificate and bachelor degree completion program.

Making the most of summer session
Multiple UC campuses expect to expand summer session, with about 15 percent of proposed undergraduate enrollment growth coming from greater reliance on summer classes. Expanded summer session helps students graduate more quickly and is also a good time to offer programs that help close academic achievement gaps.

Developing specialized off-campus educational programs
A number of UC campuses will expand education and research opportunities at off-campus facilities, such as UC San Diego's Park and Market downtown center and UC Davis's Aggie Square.
One of the top concerns among University leaders is ensuring that enrollment growth is matched with sufficient student services, especially affordable housing. UC campuses added 15,000 more student beds between 2016 and 2020, and plans are now underway for an additional 26,000 beds across the system by 2025.
UC San Diego, for example, will open three on-campus housing neighborhoods over successive years, starting in 2023. When complete in 2025, those housing projects will add 5,300 new undergraduate beds on campus.
Gov. Gavin Newsom and state lawmakers have provided vital support for both campus housing efforts and UC's plan to expand in-state enrollment, noting that University efforts are critical for meeting California's future workforce needs. The 2022-23 state budget, just finalized in June, includes a five-year funding compact with UC that provides additional state investments that are sufficient for adding 23,000 more California students by 2030, and which aligns with UC's goals for improving graduation rates and closing achievement gaps.
With additional state investments, University leaders say that the strategies they've outlined in the 2030 Capacity Plan could allow them to add 10,000 more students on top of the 23,000 students they anticipate adding — for a total of 33,000 more students by 2030.
The 2030 Capacity Plan details the kinds of state investments we would need to make in housing, faculty hires and student support services to achieve that higher number.
"The University has a responsibility to train the next generation of doctors and nurses, judges and lawyers, business leaders, elected officials, researchers, and faculty — ones that reflect California," President Drake wrote in a letter included in a report on the plan. "We recognize the demand for a UC education is great."
Read more: