May 31, 2016
Pam Kan-Rice
,
UC ANR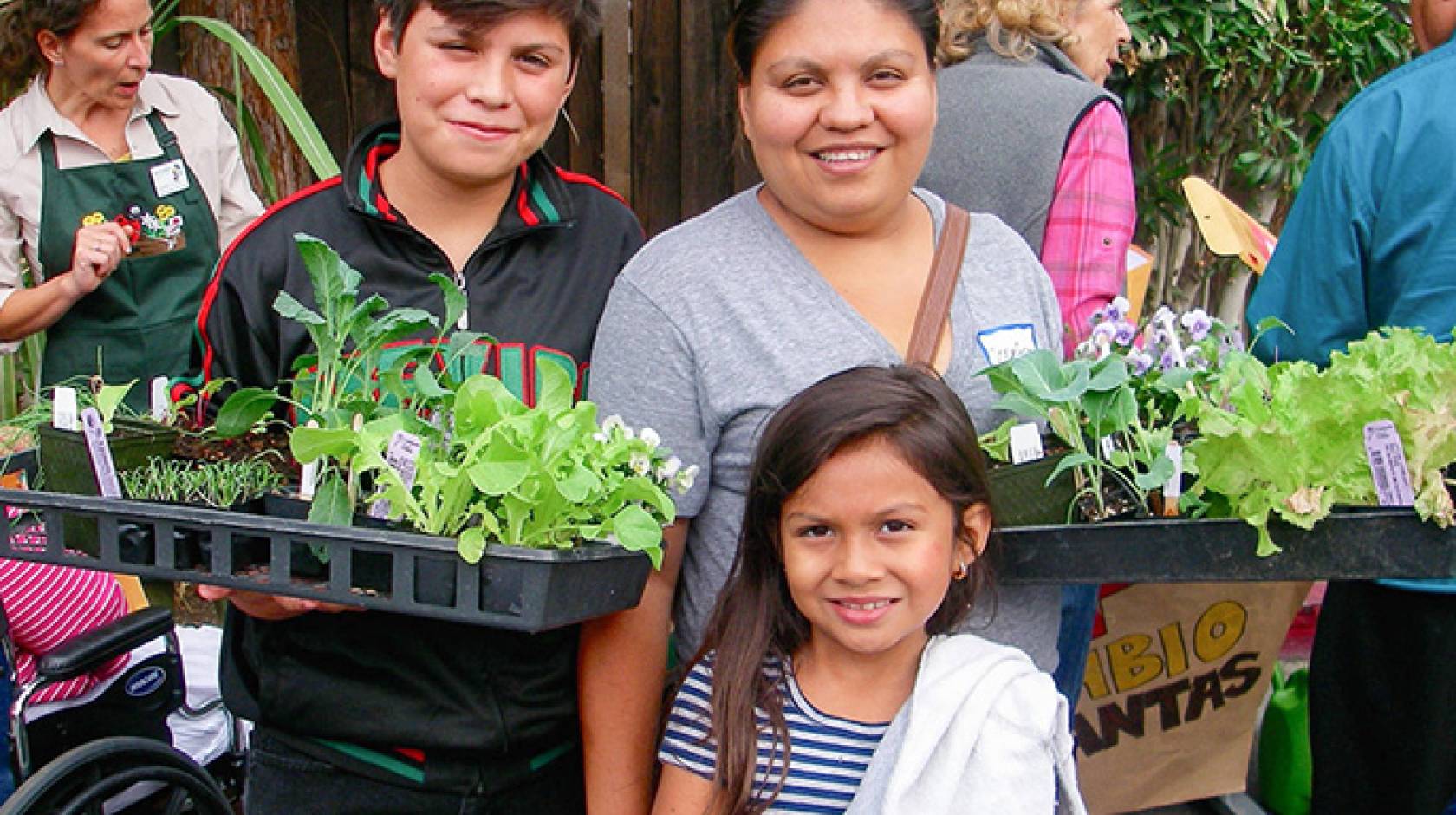 Growing food in community and home gardens can provide people with more access to fresh vegetables for a healthier food supply, according to a new study. University of California and Santa Clara University researchers surveyed people in San Jose who maintained a garden in their yard or a community garden and found that gardeners consumed more vegetables when they were eating food grown in their gardens.
Participants in the pilot study, published in California Agriculture journal, reported doubling their vegetable intake to a level that met the number of daily servings recommended by the U.S. Dietary Guidelines. Meals rich in fresh fruits and vegetables are lower in calories and higher in fiber and part of a healthy diet.
About 13.5 percent of California households face food insecurity – reduced quality, variety or desirability of diet and, in some cases, reduced food intake – according to a 2014 USDA Economic Research Service study.
Although Silicon Valley is one of the wealthiest areas of the state, some parts of Santa Clara County have "food deserts," low-income neighborhoods without grocery stores stocked with fresh fruits and vegetables at affordable prices. Even in neighborhoods with grocery stores, residents may have less to spend on food after paying rising housing costs.
"Gardening made a substantial contribution to vegetable intake regardless of socioeconomic background or previous gardening experience," said co-author Lucy Diekmann, a postdoctoral researcher in the Food and Agribusiness Institute at Santa Clara University.
Growing food saves money
UC Cooperative Extension surveyed 85 community gardeners and 50 home gardeners in San Jose. The gardeners surveyed were generally low-income and came from a variety of ethnic and educational backgrounds. The survey was available in English, Spanish and Chinese.
By growing their own food, home gardeners saved on average $92 per month and community gardeners saved $84 per month.
A number of programs in California, including Sacred Heart Community Services' La Mesa Verde, help low-income families establish their own vegetable gardens. As of 2013, Supplemental Nutrition Assistance Program (SNAP) benefits can also be used to purchase seeds and plants so that low-income households can grow their own produce.
One gardener in the La Mesa Verde program told the researchers that without the savings and access to homegrown vegetables, she would have struggled the previous year. Her garden significantly supplemented her diet.
Wider variety of fresh produce
Tomatoes, cherry tomatoes, peppers, green beans and cucumbers were the most common crops grown by community gardeners. La Mesa Verde families were given seeds and plants to grow tomatoes, peppers, beans, basil, zucchini, radishes, cucumbers and eggplants.
Culturally favorite foods were also grown by San Jose's ethnically diverse residents in both community and home gardens. They grew crops including chayote, bitter melon, goji berries, green tomatoes, fava beans, okra, collards and various Asian vegetables, such as bok choy and mustards.
"By growing and eating these foods, gardeners may maintain connections to family or cultural traditions," the authors wrote. "They may also gain access to desired foods that are either not available or are perceived to be too expensive or of poor quality at local retail outlets."
Gardeners in both groups gave excess produce to their friends and family members.
Growing demand for gardens
For the study, the authors collaborated with the San Jose Parks, Recreation and Neighborhood Services Department, which runs the city's Community Garden Program. The city operates 18 community gardens that serve more than 900 gardeners and occupy 35 acres in San Jose, yet there is growing demand for more gardening space.
"One of the challenges to starting a garden, particularly for low-income gardeners, is a lack of adequate space," said Diekmann. "La Mesa Verde gardeners are advocating for San Jose to adopt Urban Agriculture Incentive Zones so that more San Jose residents can have space to garden."
The study was conducted by UC Cooperative Extension advisor emeritus Susan Algert, Leslie Gray of Santa Clara University, Marian Renvall of UC San Diego Department of Medicine and Diekmann, whose participation in this study was funded by a USDA NIFA Agriculture and Food Research Initiative postdoctoral fellowship.
To read the full report in California Agriculture, visit http://ow.ly/wfWX300Dbzj.