Ed. Note: This is part two of a three-part series, "Young, gifted and black." For part one, featuring researchers, click here. For part three, on artists and entrepreneurs, click here.
This Black History Month, we have the audacity to look forward, rather than back, so we can highlight some of the bright young activists who are challenging the status quo and working to build a better future for us all.
From passing legislation to securing clemency to starting a worldwide political movement, these young leaders have already accomplished a lot — and what they do in the future promises to be just as powerful.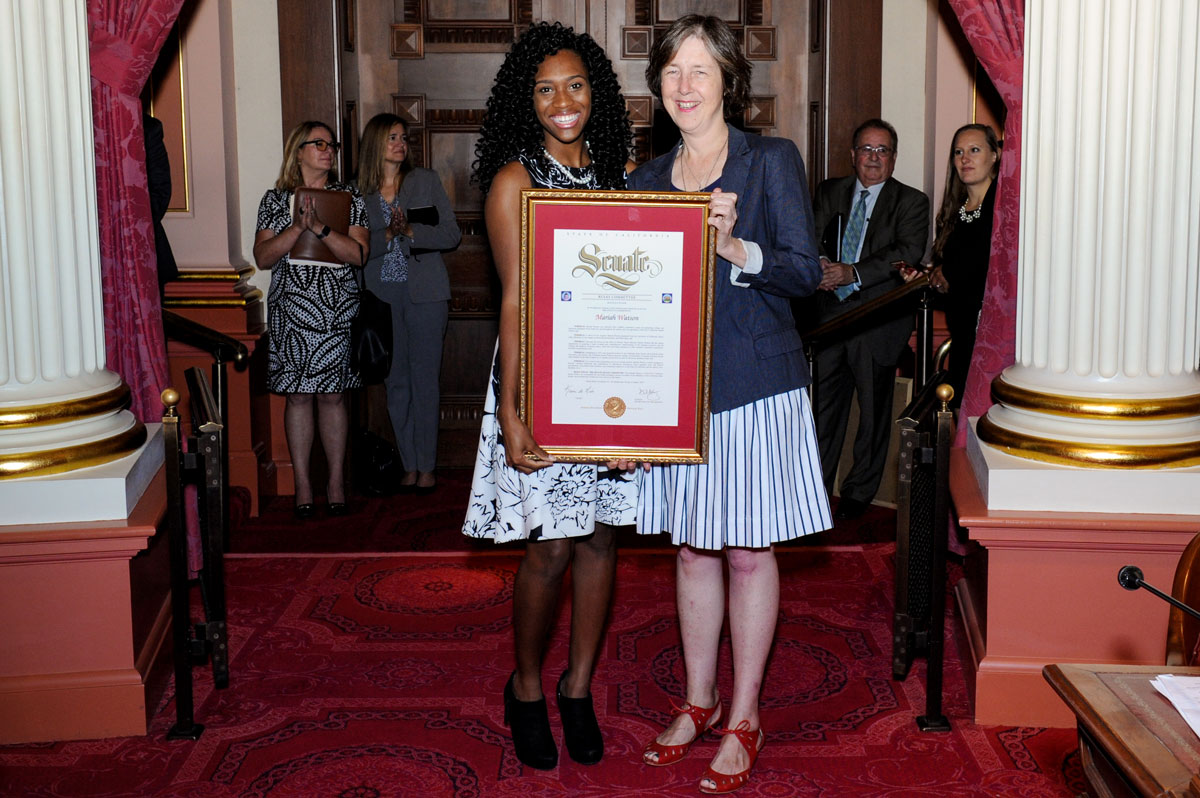 Mariah Watson
Campus: UC Davis
Major: International relations and philosophy
Hometown: Los Angeles, Calif.
Mariah Watson was a second-grader when an 18-year-old named Adnan Khan helped steal a bag of marijuana and ended up sentenced to prison for life under California's felony murder rule. The law enabled anyone involved in certain crimes in which a death occurred to be charged with first-degree murder.
Sixteen years later, the UC Davis graduate was with Khan when he secured his freedom as the result of a bill she staffed and help shepherd through the state legislature to limit the use of the rule to those who directly assisted or had a role in a homicide.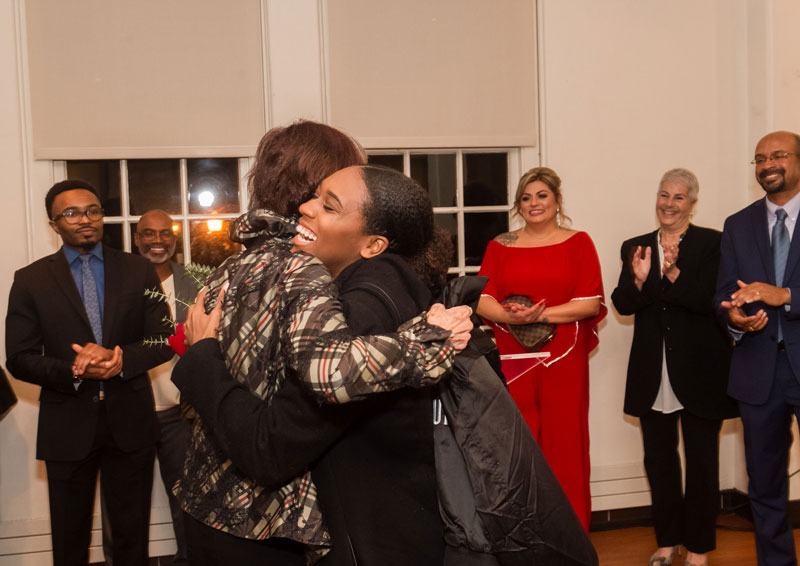 "This is something we could only dream of repealing when we started," Watson said, as she joined Khan and his family for their emotional reunion upon his release after 16 years behind bars. "After months of going to every single office in the assembly and discussing this bill — it was incredible to get to this moment."
A born leader, the 25-year-old Watson has a record of using her skills to help those with less agency gain a seat at the table. As UC Davis's first black female student body president, she expanded the student food pantry and developed policies to better address hunger and homelessness on campus. She helped establish a student-oriented police review board and won a UC president's leadership award for her work building dialogue between university leaders and African American students.
After graduating, Watson was working as an aide in state Sen. Nancy Skinner's office, when she received a visit from a constituent that especially stood out: a mom whose son was serving life in prison under the felony murder rule for a homicide he didn't commit.
Watson's own brother had struggled with addiction and incarceration. "You know what it's like to feel hopeless, to not feel heard and, the worst part, to not be able to help. That resonated with me on a soul level," she said.
She brought the issue forward to Skinner, who agreed to champion reform. Together, they spent the next 18 months tirelessly working with legislators and grassroots organizations to build support for the bill. It was signed into law in Sept. 2018. "I know people who have been in prison under the felony murder rule longer than I have been alive," she said. "To see it pass was just so gratifying."
To actually see how [a bill] plays out in someone's life and be with them when they are able to regain their freedom — that's just beyond words.
A few months later, she received an offer from the nonprofit Re:store Justice to go into prisons and help eligible inmates apply for resentencing under the reform she had helped to pass. It was an opportunity she couldn't refuse.
"To work on a bill and care so much about it and to finally see it passed is incredible. But then to actually see how it plays out in someone's life and be with them when they are able to regain their freedom — that's just beyond words," she said.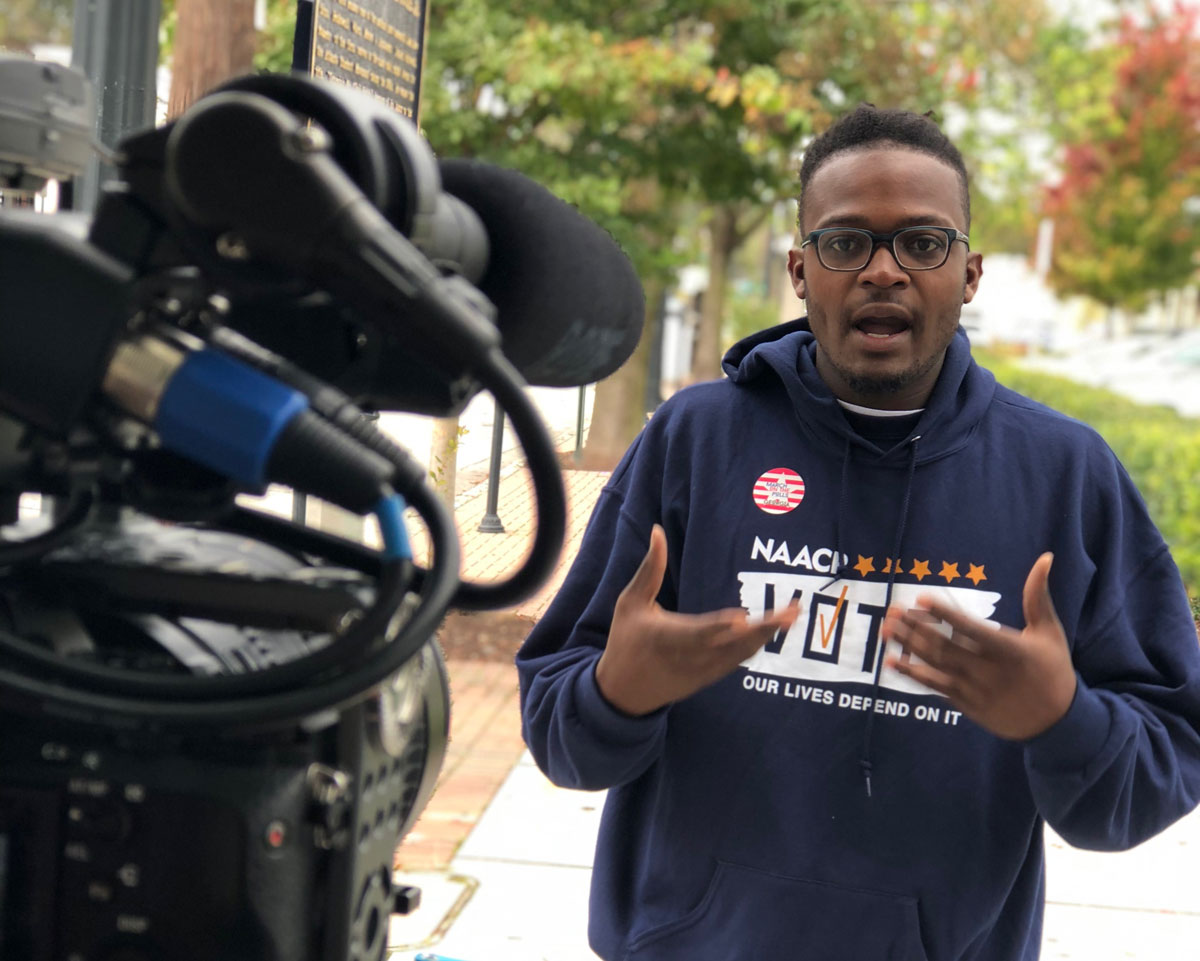 Wisdom Cole
Campus: UC Santa Cruz
Major: Chemistry
Hometown: San Bernardino, Calif.
Earlier this year, Wisdom Cole had one of the biggest victories of his young life: Helping earn clemency for Cyntoia Brown, a sex trafficking victim who at 16 was sentenced to life in prison for killing a john in self-defense.
A national organizer with the NAACP, Cole was always interested in serving his community. He naturally gravitated towards the idea of becoming a doctor, and expected to go to college, study for the MCAT, apply to medical school and begin his career. But like many things in life, Cole's idea of a linear path shifted once he got to UC Santa Cruz.
Growing up near Riverside, he was raised by a single mother, who convinced him to commute by bus to a high school in Redlands, California, almost an hour away from his home, because she thought he would get a better education. "Going there I had a lot of opportunities but I felt very isolated and tokenized—I'd be the only black person in [my] AP class. [After high school], I wanted to get away to experience new things," Cole says.
UC Santa Cruz had a strong science program, plus his cousin was a student there, so it felt like a good fit. Once on campus, Cole chose to live in Oakes College, which was founded on supporting students of color. His time at Oakes immediately had an impact: "Connecting with other black students, and getting involved in student-led organizations, that's what really changed the course of my path."
From being a resident adviser at Biko House, part of UC Santa Cruz's multicultural themed housing, to joining organizations like the African Student Union and the African Black Student Alliance, Cole began devoting his time to being a student leader. In fact, he was doing so much student organizing that he had trouble managing his classes. True to form, he made it work, and with the help of close friends, managed to graduate on time. His time as a student organizer had taught him that he was so passionate about social justice work that medical school paled in comparison.
After graduating, Cole worked as a math and science teacher at the June Jordan School for Equity in San Francisco, drawing on his STEM background. "Being a teacher is the biggest social justice work you can do. You're working with young people to help shape and mold their minds; to think about the world in a more critical way," he says.
When you build solidarity and community with other people, you have power and can really cause change.
Now at the NAACP as the national organizing manager with the youth and college division, Cole is in charge of campaigns and trainings for the organization's units across the country. With a focus on electoral action and civic engagement, much of his work involves training student leaders to help mobilize other students to take political action. "When I talk to students, I tell them that this [advocacy] work doesn't end after you graduate. This is real work. You can continue to fight even after you graduate from college."
Fresh from this victory on the Cyntoia Brown case, Cole sees it as a model for how change happens: "When you build solidarity and community with other people, you have power and can really cause change."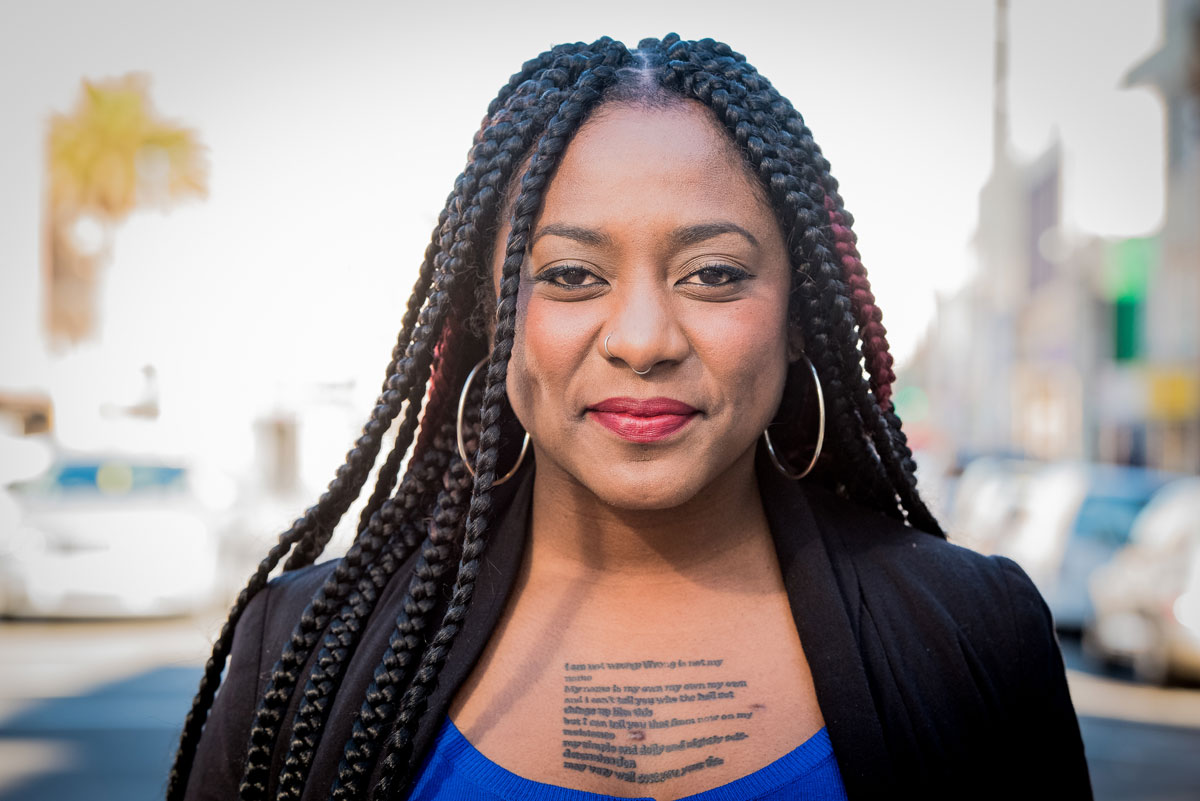 Alicia Garza
Campus: UC San Diego
Major: Sociology and anthropology
Hometown: Oakland, Calif.
"Black people: I love you. I love us. Our lives matter." With these words, Alicia Garza launched the Black Lives Matter movement that has changed the face of activism and influenced policy around the nation.
The movement started in response to the 2013 acquittal of George Zimmerman, who had been charged with second-degree murder and manslaughter in the death of Trayvon Martin, an unarmed 17-year-old. Black Lives Matter distinguished itself not just as a movement deeply in touch with the moment, but about the many identities black people embrace within their blackness. Garza and her fellow co-founders, Opal Tometi and Patrisse Khan-Cullors, were not just black, but women; Khan-Cullors and Garza also identify as queer. What leadership would look like in this movement would be different, broader than in the past, even as it acknowledged its elders and tactics, such as Freedom Rides, from the civil rights movement.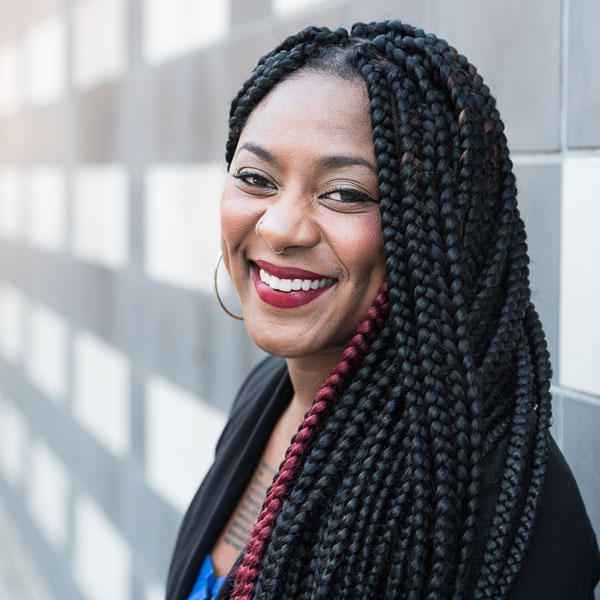 Black Lives Matter now has over 40 chapters around the globe, dedicated to increasing the quality of all black lives, with an emphasis on decriminalizing black life. The organization has a loose, relatively non-hierarchical structure, intended to facilitate power sharing and more effective organizing. The structure has allowed Garza to pursue a number of other projects, including acting as director of strategy and partnerships for the National Domestic Workers Alliance, which organizes domestic workers for better working conditions and fairer pay.
Black people: I love you. I love us. Our lives matter.
Her newest project, Black Futures Lab, focuses more squarely on political power, in part as a response to the 2016 election. The Black Census Project is designed to collect accurate information about the needs of black communities across the country, while Black to the Future seeks to translate that information into policy. The Shirley Chisholm "Unbought and Unbossed" Black Politics Project, named in honor of the first black woman to run for president of the United States, is dedicated to providing up-and-coming black candidates with grassroots organizing and fundraising tools. Her view of the lab could be considered a thesis statement of her work in general.
"I want to see Black people living powerfully and living well," Garza told Rewire News in 2018. "I want to see Black people shaping the policies that impact our lives. I also want to see Black people represented in our culture in different ways. And I want to see Black people actively engaged and inspired. That's the charge of the Black Futures Lab."
"There are so many valuable experiences that we have to offer that can really shape a better country for everyone," Garza wrote in "And Still I Rise: Black Women Labor Leaders' Voices." "Because when black people get free, everybody has a chance to get free."
Vanessa Warri
Campus: UCLA
Major: Sociology and anthropology
Hometown: San Francisco, Calif.
For more than a decade, Vanessa Warri, 28, has worked to uplift the communities she calls her own. They are some of the most vulnerable people in America: foster youth, homeless youth, transpeople of color. "I started off wanting to advocate for communities that were reflections of myself."
As an emancipated foster kid, Warri ended up on the street, left vulnerable by a lack of resources and education in the foster system. "The statistic at that time in San Francisco was that one in every three foster youth who emancipated would become homeless. And that was my experience."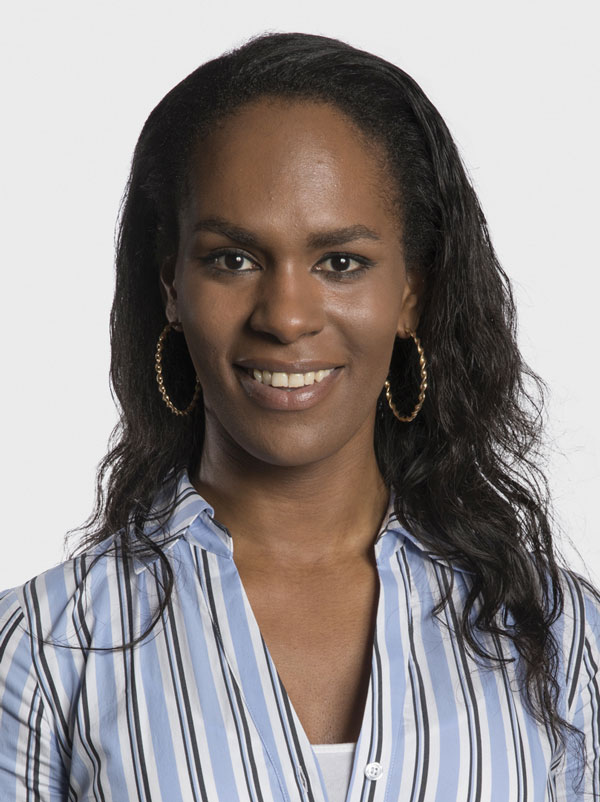 Believing that the people in charge of the foster care system didn't understand its failings, Warri jumped into advocacy at 17 to try and improve things for the next wave of youth coming out of foster care. Her work evolved as she became part of more communities and saw her personal struggles reflected in the lives of so many others.
Working as a case manager for the same marginalized communities in which she belonged, Warri felt there was a need to empower communities to help and organize themselves, outside the system of direct services. Too often, those in social services don't understand the people they are trying to serve and create programs that end up reinforcing disparities rather than fixing them, Warri says. There needed to be a venue where Warri and her communities' voices were heard, not only when expertise was required, but throughout, in the creation of an entire structure of support.
"It's about who gets to tell the narrative," Warri says. "In research about trans people, the experts are always non-trans people, and nine times out of ten, they get it wrong. They don't have this personal connection that allows them to get to the root of the issue." Researchers ask the wrong questions, collect the wrong data and their results don't help the trans community or reflect its true needs.
"[As trans people] we are being seen as the bridge between researchers and nonprofits. We're told we're experts, that we play these vital roles. But then we're not listened to when we suggest things that are counter to the current movement of the work, or specific things researchers want to look at."
Informed by these experiences and wanting to take charge of tools used to analyze and (mis)understand her community, Warri felt drawn to higher education.
"I need credentials? Let me go get them," she laughs. "I will be right back, you just hold that thought. I will be right back with all those things you say I need to be heard."
I want to ensure that my trans great-granddaughter grows up in a world that doesn't have any of the obstacles I'm struggling with.
As a Point Foundation scholar, Warri has begun to collecting those credentials, adding to an already long resume, including working with UCSF's Center for Excellence in Transgender Health, serving as a mayoral appointee on the San Francisco Youth Commission, and co-founding the Transgender Advocates for Justice and Accountability Coalition (TAJA) in memory of a case management client and friend, Taja DeJesus, who was murdered in San Francisco. But Warri doesn't want to accumulate these credentials for herself — she wants the tools of an elite education and the platform it has helped her develop for sharing her perspective to be more accessible to her peers.
"Everything that I learn, I will give away for free." And she hopes that by trusting communities to become experts of and about themselves, we will be able to re-evaluate old systems that haven't been serving them effectively.
"I'm passionate about the future," Warri says. "I want to ensure that my trans great-granddaughter grows up in a world that doesn't have any of the obstacles I'm struggling with."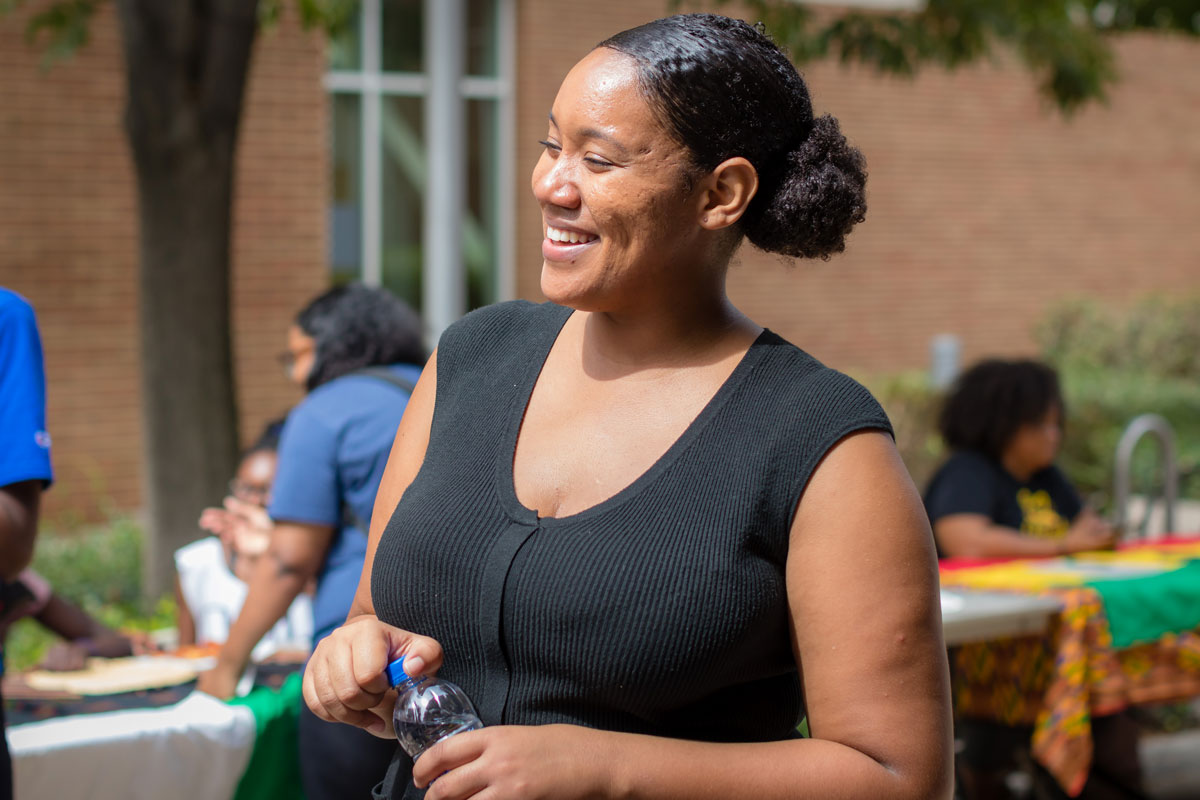 Sharee Hughes
Campus: UC Riverside
Major: Psychology
Hometown: South Central Los Angeles, Calif.
For the third year in a row at UC Riverside, February will usher in Black Queens Week, an initiative started by student development and life specialist Sharee Hughes. It is a weeklong series of programming about empowerment within the community, promoting "healthy lives within the community, awareness that we come in all shapes, shades, sizes, genders, sexual orientations," says Hughes. "Just an awareness of all the different variations of black womanhood and wellness."
Sharee Hughes' passion for serving underrepresented students started during her time as a student at UC Riverside. When Hughes arrived on campus as a first-gen transfer student, she was also balancing life as a parent. Naturally, she gravitated towards the Women's Resource Center on campus, along with R'Kids, an organization for student parents. They provided a sense of community, and before long, she found herself getting more involved.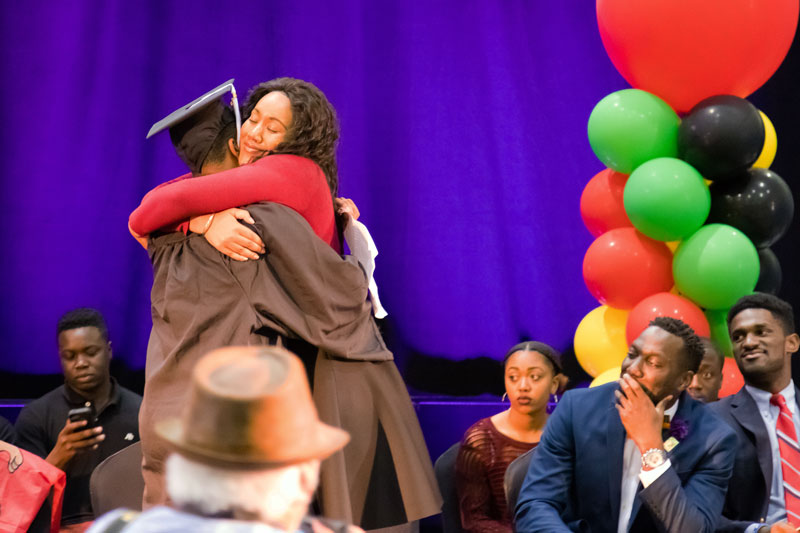 While on the Student Parent Action Committee, a spin-off of R'Kids, she helped lead efforts to convince campus administrators to provide more funding for programs to help student parents. "That spearheaded my drive to advocate for resources for students on college campuses," she says.
Hughes was able to gain solid programming experience while working in the Women's Resource Center during her time on campus. Following graduation, she made the shift from developing programming for student parents, to developing and implementing programming for African American students — she's now a student development and life specialist with the university's African Student Programs and has hit the ground running in her new role.
Another reason I love my job is that I get to see students come in that were just like me.
Originally from South Central Los Angeles, Hughes spent her adolescent years among other people of color. The students she serves on campus are from similar backgrounds to those of her hometown. This hits home for her: "Another reason I love my job is that I get to see students come in that were just like me. It's a different lens you're looking through [as a first-generation student]. I'm glad to be able to relate to those students in that way."
Her advice to other student organizers? "There's no reason to have to reinvent the wheel or feel like you're in it alone. There are plenty of alumni and people on campus who want to help with your efforts and steer you in the right direction."
Top photo: Wisdom Cole with his colleagues. Photo credit: Greg Kahn.