All University of California Health children's hospitals ranked among the nation's best
The four children's hospitals of University of California Health were recognized for excellence in multiple areas of subspecialty care by U.S. News & World Report in its 2020–21 Best Children's Hospitals rankings.
All of UC's pediatric hospitals were ranked in the top 50 in the country in multiple specialties that involve caring for children with medically complex conditions. There are more than 250 children's hospitals in the United States. Just 88 of them scored high enough to be included in the rankings of the pediatric specialties evaluated.
"As a pediatrician, I'm especially proud that our children's hospitals and care teams are recognized as leaders in the nation," said Dr. Carrie L. Byington, executive vice president of University of California Health and an infectious disease expert. "My heart goes out to every parent who has gone through the experience of having a seriously ill child in the hospital. We work every day to ensure our smallest patients have the best possible outcomes."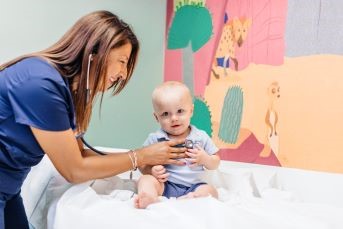 The rankings earned by each University of California Health children's hospital are:
UC Davis Children's Hospital was ranked among the country's best in four pediatric specialty care areas: neonatology, nephrology, orthopedics and urology. The orthopedics and urology rankings were awarded in collaboration with Shriners Hospitals for Children – Northern California, UC Davis Children's Hospital's longstanding partner in caring for children with burns, spinal cord injuries, orthopedic disorders, and urological issues.
UCLA Mattel Children's Hospital, located within Ronald Reagan UCLA Medical Center, was recognized for its broad excellence in pediatric care in seven specialties: cancer, diabetes and endocrinology, gastroenterology and gastrointestinal surgery, orthopedics, neonatology, nephrology, and neurology and neurosurgery.
UCSF Benioff Children's Hospitals in San Francisco and Oakland, located on opposite sides of the San Francisco bay, were evaluated jointly by U.S. News & World Report. Together they ranked among the top 20 hospitals in the country in pediatric cancer, diabetes and endocrinology, neonatology, neurology and neurosurgery, and urology. The hospitals also were recognized in five other pediatric specialties: cardiology and heart surgery, gastroenterology and GI surgery, nephrology, orthopedics, and pulmonology.
The annual assessment, now in its 14th year, is based on clinical data from participating medical centers gathered through a detailed survey that examines measures such as patient safety, infection prevention and adequacy of nurse staffing. In addition, part of each hospital's score is based on surveys of more than 15,000 pediatric specialists who are asked where they would send the sickest children in their specialty.
The rankings cover 10 pediatric specialties: cancer, cardiology & heart surgery, diabetes & endocrinology, gastroenterology & gastrointestinal surgery, neonatology, nephrology, neurology & neurosurgery, orthopedics, pulmonology & lung surgery and urology.
About University of California Health
University of California Health comprises five academic health centers, a community-based health system in Riverside and 19 health professional schools. All of UC's hospitals are ranked among the top ten in California and its medical schools and health professional schools are also ranked among the best in their respective areas. More information and news from University of California Health is available here.