The State of California has asked the University of California to lead an expansion of a smartphone-based COVID-19 exposure notification system recently tested at seven University of California campuses. Under this statewide program, researchers and entrepreneurs at UC San Diego Health who developed and led the pilot program will manage broadening the program for the State.
The notification system, called CA Notify which will officially launch on December 10, enables individuals who opt-in to the program to receive automatic smartphone notifications if the user has high-risk exposure to other enrolled users who are diagnosed with COVID-19. As part of the privacy-first approach, users decide whether they want to share their own verified positive test result with the system and with other users. The technology does not store location information. Also, the identities of users are not shared.
The notification system prompts users who receive an alert to self-isolate and seek clinical resources, which are key to limiting the spread of COVID-19. The system uses Google/Apple Exposure Notification (GAEN) technology.
"With the rapid surge of COVID-19 cases, we need every tool possible to protect our communities. We applaud the State for expanding this scalable system so all people living in California have another means of being informed of potential exposures as quickly as possible," said Dr. Carrie L. Byington, executive vice president of University of California Health and an infectious disease expert. "We are glad that University of California Health could be a resource for the pilot testing and now for the management of the expansion."
Due to its pivotal role in piloting CA Notify, UC San Diego Health is contracted to provide infrastructure, education, and support for the exposure notification system. Support includes a call center and public website. The call center will answer questions about the mobile tools and how they work on Google and Apple devices. Call center representatives and the website provide support in multiple languages, including Spanish and Chinese.
"Our pilot experience starting at UC San Diego and expanding to other UC campuses showed this technology was effective in identifying exposed individuals early for quarantine and testing, and helping keep our communities as safe as possible" said Dr. Christopher Longhurst, chief information officer, UC San Diego Health. "This free and reliable smartphone technology can help all Californians. As we enter a new, and hopefully final, surge in the pandemic, now more than ever is the time to put every possible tool to use to slow the spread of the virus."
UC San Diego launched a pilot program for the State this fall to test the system and was joined by UC San Francisco. Following the initial phase, California public health authorities authorized participation of additional UC locations – UC Berkeley, UC Davis, UCLA, UC Riverside and UC Santa Barbara – to enable enrollment of a more demographically diverse and larger set of students, faculty and staff. Although the software does not allow tracking of users, UC's investigators for the study estimated that during the pilot program more than 20,000 users activated the software.

About the technology
The Google/Apple technology employs Bluetooth to communicate with other Bluetooth-enabled devices nearby, such as the smartphones of people who at the same time are traveling on a plane, standing with in line at a grocery store or sharing space inside a classroom or dormitory. When a person opts into using the Google/Apple notification system, the user's phone broadcasts a random identification (ID) number to other phones in the area. When phones come within 6 feet of each another, they log each other's IDs — without names or locations attached.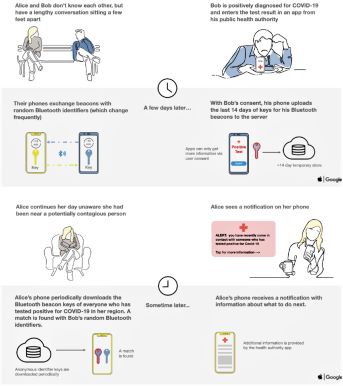 If a person is diagnosed with COVID-19, they can voluntarily enter a keycode indicating they received a positive test result. This approach will generate an anonymous alert to other users based on proximity and length of exposure.
To learn more about GAEN, visit the information pages from Google and Apple.
About University of California Health
University of California Health (UCH) comprises six academic health centers, 20 health professional schools, a Global Health Institute and systemwide services that improve the health of patients and the University's students, faculty and employees. All of UC's hospitals are ranked among the best in California and its medical schools and health professional schools are nationally ranked in their respective areas. More information and news from University of California Health is available here.