More than 80 percent of California youth say they are strictly adhering to social distancing guidelines and 2 out of 3 are concerned about lifting public health restrictions too quickly, according to a new poll the University of California released today (Sept. 21). This new survey of Californians ages 18 to 24 highlights a sharp contrast to the popular image of indifferent young people flouting public health guidelines. The eye-opening results reveal that more than two-thirds of those surveyed expressed concern about contracting COVID-19, and nearly as many reported "always" wearing a mask.
With the November general election just weeks away, the survey also found that California youth are more motivated to vote this year due to the pandemic (42 percent) and protests against racial injustice (45 percent). Additionally, as the status of the next U.S. Supreme Court justice remains unclear, one third of respondents said that the president's ability to nominate new members to the Court made them more likely to vote. While belonging to a group that historically turns out in low numbers to vote, 3 out of 4 also stated they were registered to vote, and a majority shared strong support for vote-by-mail options.
"This survey confirms that California youth are paying attention to the issues of the day, and that they are motivated to shape the future of our country through action," said UC President Michael V. Drake, M.D. "The University of California has always been committed to educating young people about the importance of voting. I am encouraged to see California youth are ready to exercise their civic duty this November."
"California's youth are active, engaged, and ready to cast a ballot in 2020," said California Secretary of State Alex Padilla. "Not only are students rightfully concerned about the COVID-19 pandemic and racial injustice in the nation, this translates into motivation to participate in our elections. It is encouraging that survey results show students are already creating an action plan to vote this fall."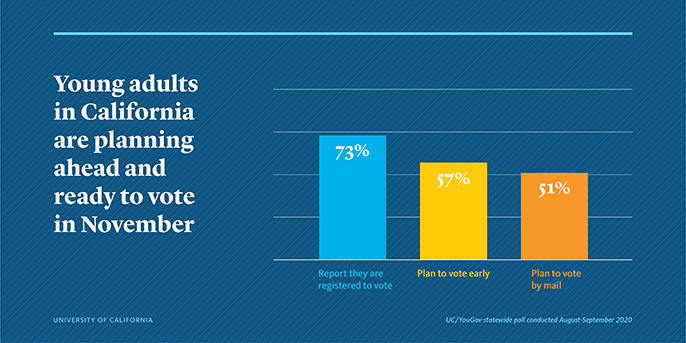 The survey, conducted by YouGov on behalf of UC, expands upon the findings from a spring poll of California young adults. The findings provide new insights about California youth, on how COVID-19 has directly impacted them and their education, on their reactions to issues of racial justice, and on how the pandemic has influenced their plans to vote.
Key survey findings among California young adults:
They have been directly impacted by the COVID-19 pandemic: Nearly a third of respondents said that a family member or close friend had tested positive for COVID-19, while more than 40 percent reported that a family member or close friend had experienced reduced work hours or pay due to the pandemic. About one in five said they had been impacted themselves by reduced work hours or pay, or by a layoff. More than 80 percent believe the pandemic is a serious problem in the U.S. Additionally, 83 percent said they supported the state of California's policy mandating mask wearing in public places.
They have strong opinions on state and federal responses to the pandemic: Nearly three-quarters rated the state and local response to COVID-19 as "fair," "good" or "excellent," in contrast to the 52 percent who said the same about the federal response. More than 65 percent were concerned about restrictions being lifted "too quickly," compared to approximately 20 percent who were concerned about restrictions lifting "too slowly."
They are registered to vote and motivated to turn out in November: Nearly 6 in 10 of those surveyed said they would "definitely" or "probably" vote in November, and almost 60 percent said they planned to vote early this year, indicating high enthusiasm and awareness of early voting opportunities in California. Young people enrolled in school were more likely to be registered and more likely to indicate they will vote early.
They are knowledgeable and enthusiastic about voting by mail: Seven out of 10 said they were aware that California will be sending a mail-in ballot to every voter in the state this year. Large majorities also indicated they were confident in their understanding of the vote-by-mail process, and 59 percent said they believed their mail-in ballots will be counted accurately. Half of respondents stated they plan to vote by mail, while 18 percent said they still plan to vote in person. Despite their enthusiasm, nearly 60 percent expressed fears about COVID-19 depressing voter turnout.
They strongly support recent protests against racial injustice and are closely tracking news about them: 72 percent say they "somewhat" or "strongly" approve of the non-violent protests, marches and rallies in response to the deaths of Black Americans during encounters with police, and a similar percentage (71 percent) say they are following news about the protests "very" or "somewhat" closely.
California youth surveyed identified racism and racial justice as the most important issue facing the country today. In fact, this issue outranked the COVID-19 pandemic response, jobs and the economy, and health care by 8 or more percentage points — in terms of areas of concern — among those surveyed.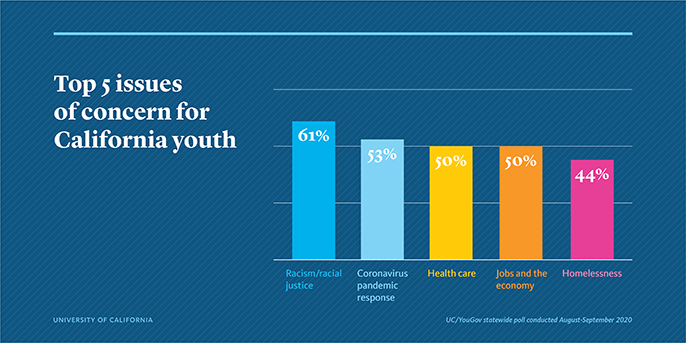 Data from the biennial UC Undergraduate Experience Survey (UCUES), released earlier this month, reinforces many of the findings from the new UC/YouGov poll, particularly around the impact of the pandemic on young people. The UCUES data reveals that UC students, like California youth at large, are concerned about the impact of COVID-19 on their lives and their learning. However, almost 80 percent of UC students who responded to the survey agreed that the University is committed to their health and well-being during the pandemic, and 96 percent said they know how to protect themselves from COVID-19.
As universities across the country continue to grapple with how to safely operate during the fall, the YouGov poll shows California youth are split over the best approach to campus reopening, with more than 60 percent of them supporting schools opening exclusively online or mostly online this fall, and only 12 percent saying they should exclusively operate in person. A majority of respondents also disapproved of the resumption of collegiate sports, with 52 percent saying they did not think it was safe to resume playing.
The YouGov poll was conducted as part of the University of California's 2020 civic engagement and get-out-the-vote campaign. Launched in January, the nonpartisan campaign aims to boost youth voter registration and turnout, as well as participation in the U.S. census process, and will continue through the November election.
For complete poll questions and findings, view or download the UC/YouGov survey toplines and tabulations.
High-resolution versions of related images are available for reprinting; no additional credit is needed.
Survey details:
Survey conducted by YouGov between August 19 and September 2, 2020
Sample size: 1,000 California adults ages 18-24
Margin of error: +/- 3.5 percentage points