University of California Health delivered $1.4 billion in community benefits during past reporting year
The University of California's academic health centers delivered a net total of $1.4 billion of community benefits during the 2018-2019 reporting period, the most recently completed fiscal year.
The University of California Health's academic health centers' 9.9 percent average net community benefit expenses as a percent of total expenses are comparable to benchmark data for a group of 32 academic medical centers nationally.
University of California Health's community benefit report provides details on these expenses from the University's five academic health centers – UC Davis Health, UC San Diego Health, UCI Health, UCLA Health and UCSF Health, including the private non-profit Children's Hospital and Research Center at Oakland.
University of California Health's academic health centers collaborate with other local health systems to complete a Community Health Needs Assessment (CHNA) every three years to guide overall efforts. The CHNAs identify significant health needs of people living in the communities they serve so that health organizations can act upon unmet needs. While CHNAs are developed every three years, University of California Health's community benefit report will be published annually to provide transparency about the activities.
The University also operates 19 health professional schools which provide many substantive benefits to communities throughout the state and beyond. In the future, University of California Health plans to include data regarding the community benefits provided through the health professional schools in the annual community benefits report.
Examples of community benefits include free or discounted health services, unreimbursed costs for care to Medi-Cal recipients, health professions education, subsidized health services, research, and financial or in-kind support for non-profit community organizations. These efforts advance University of California Health's mission of patient care, research and education.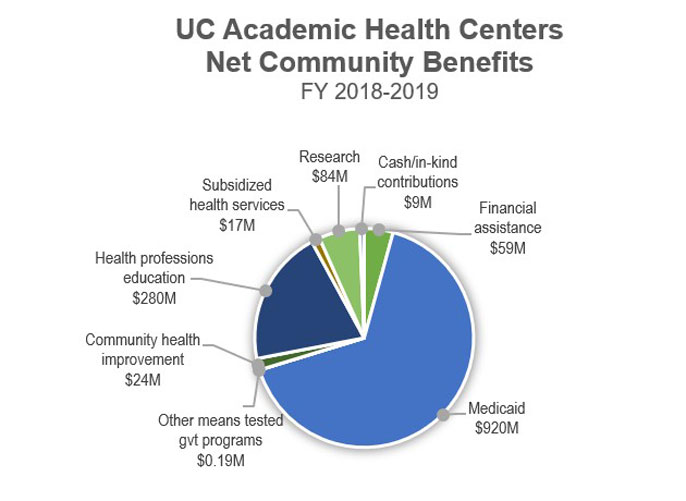 "Academic health centers play a vital role in addressing long-term health problems as well as marshaling a robust response to crises like the current pandemic," said Dr. Carrie L. Byington, executive vice president of University of California Health. "Through ongoing dialogue with our community partners, we are targeting our efforts to have the most impact. This report provides transparency to ensure we remain accountable to the state and to our mission to improve the health of all Californians."
Community benefits are programs or activities that provide treatment or promote health and healing as a response to identified community needs. The programs from UC academic health centers are developed with a focus on:
Providing vital support to improve population health and achieve strategic objectives related to the quality, efficiency, and affordability of healthcare;
Highlighting the significant resources devoted to providing access to care for low-income and other underserved patient populations; and
Helping to advance knowledge through health professions education and research that benefits the public.
Examples of these programs at each academic medical center are described in the April presentation to the UC Board of Regents and include:
UC Davis Interim Care Program: Founded in 2005, and now with two locations in Sacramento, the program serves people who are well enough for hospital discharge but who lack housing and still need a safe, supportive space for recuperation. The program is one of only a few of its kind in the nation and is offered through a collaboration among UC Davis Health, other regional health systems, Volunteers of America, the Salvation Army, and WellSpace Health, a Federally Qualified Health Center.
UCLA Health Rape Treatment Center: UCLA Medical Center, Santa Monica, internationally recognized as a model for victim care, provides comprehensive, free, state-of-the art treatment services for sexual assault victims – adults and children – 24 hours a day, including specialized emergency medical care, forensic services, crisis counseling, advocacy, information about rights and options, and follow-up care. The Center also provides ongoing, longer-term therapy for victims and many other support services. From July 2018 through June 2019, 1,339 victims received these services. Additionally, the Rape Treatment Center provides community education and prevention programs that reached 16,671 students, school personnel, coaches and parents during the 2018-2019 academic year.
UCI Student Clinic at Orange County Rescue Mission: The Orange County Rescue Mission's Village of Hope provides transitional housing for men, women and children. Since 2009, UCI medical students and supervising physicians have operated a Saturday clinic at the Village of Hope to help improve the health status of persons who have lacked consistent access to care.
UC San Diego Shiley EyeMobile for Children: For over 20 years, physicians and staff from UC San Diego Health and Shiley Eye Center have provided vision screening and ophthalmic care services to more than 235,000 preschoolers. In 2019, 1,200 pairs of prescription glasses were provided to children. The EyeMobile reached 70 percent of low-income preschool children in San Diego County.
UCSF Benioff Children's Hospital Oakland School-Based Clinics: The hospital operates two school-linked health clinics that serve as national models for full-service, school-based primary care centers that integrate behavioral health services to promote adolescent development and wellness.
​University of California Health's community benefit report follows guidelines published by the Internal Revenue Service for tax-exempt, non-profit academic medical centers. The standardized reporting enables transparency about the community benefits being delivered and facilitates comparisons to benchmarks for other tax-exempt, non-profit academic medical centers. UC's academic health centers are not required to file reports related to the community benefits annually with the IRS.
About University of California Health
University of California Health comprises five academic health centers, a community-based health system in Riverside and 19 health professional schools. All of UC's hospitals are ranked among the top ten in California and its medical schools and health professional schools are also ranked among the best in their respective areas. More information and news from University of California Health is available here.