May 4, 2023
Roy Rivenburg
,
UC Irvine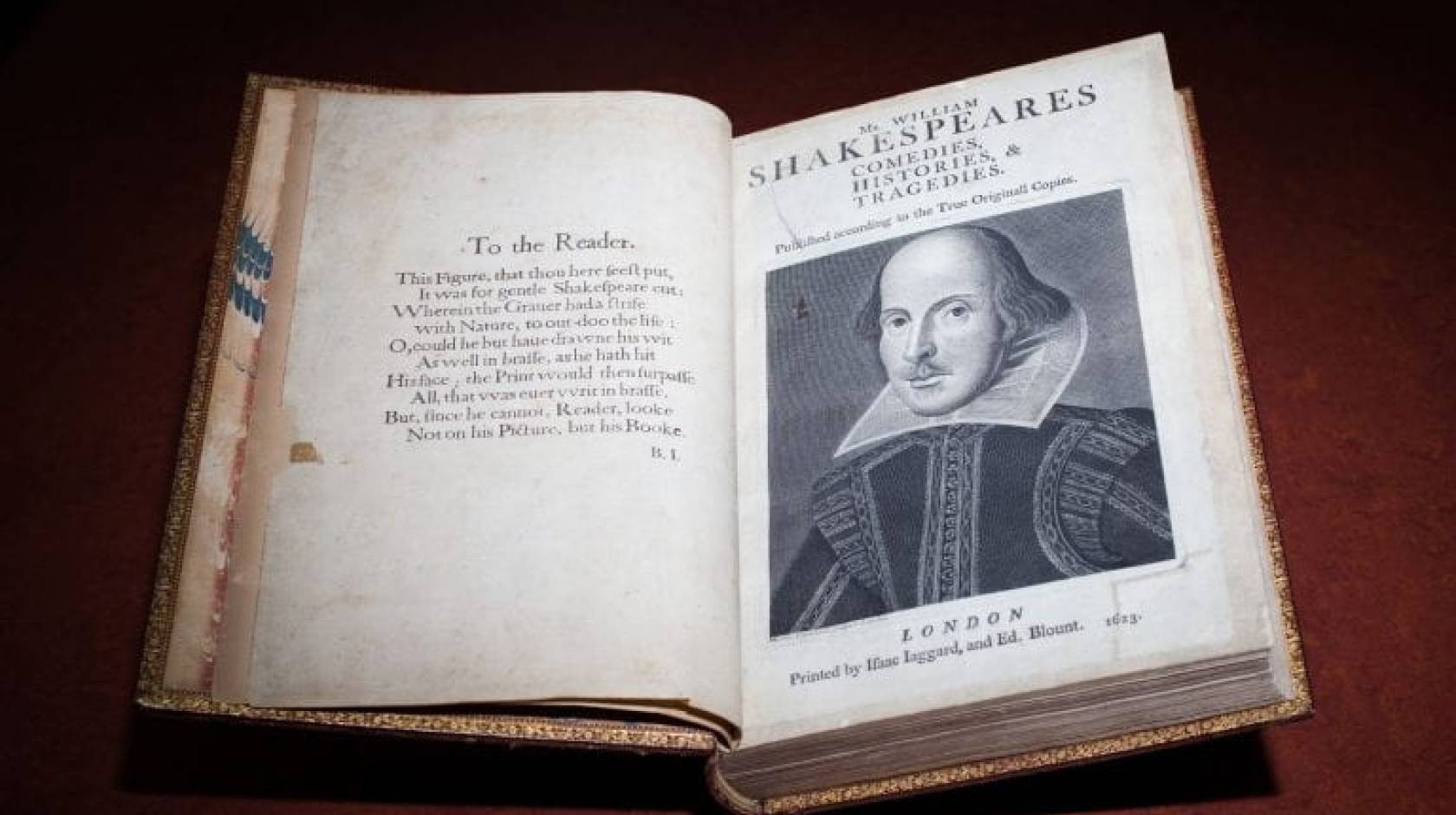 Credit: UC Irvine Libraries
A fiery plane crash, an aspiring opera singer and a rusty pair of scissors. Those are three of the ingredients behind an exhibit that toasts the 400th anniversary of a rare Shakespeare anthology owned by UC Irvine.
Debuting May 4 at Langson Library and continuing through December, "400 Years of Shakespeare's First Folio" features 90 artifacts related to the Bard, ranging from a 17th century witchcraft book regarded as "one of the most comprehensive works on the subject of evil spirits, the devil and wizards" to a Morse code version of two Shakespearean sonnets created in 2015.
Nearly every decade over the last five centuries is represented by at least one exhibit item, says curator Derek Christian Quezada Meneses.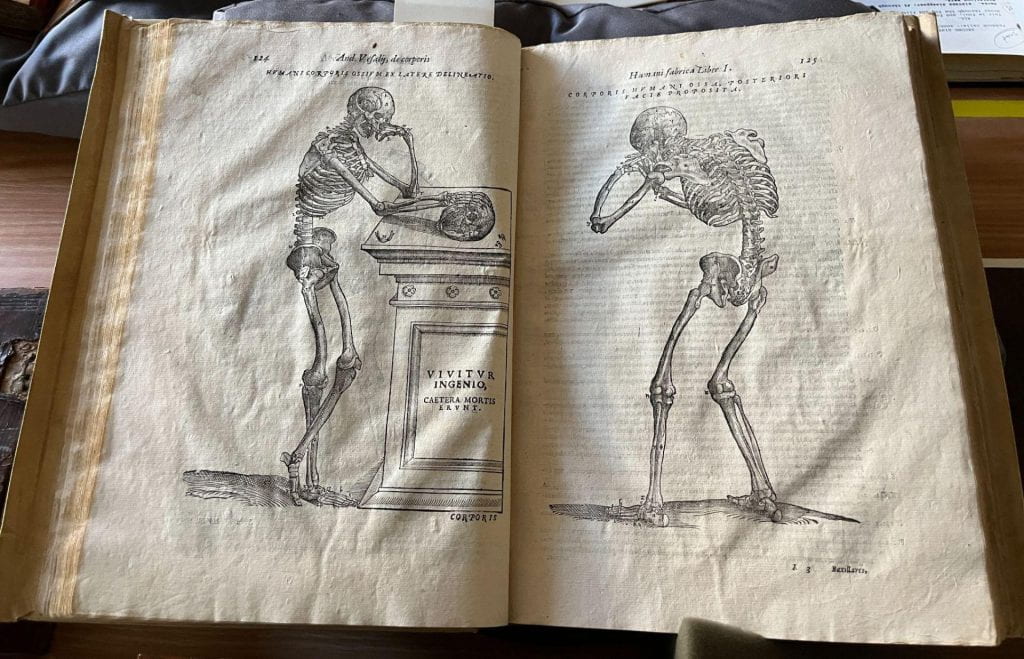 Normally locked in a vault, UC Irvine's folio — a first-edition book of Shakespeare's plays — was donated to the campus in 1986 by alumnus Patrick Hanratty, a computer scientist, inventor and entrepreneur who paid $241,000 for the volume in 1983.
In media interviews, Hanratty — who died in 2019 — explained the twists of fate that led to the gift. A longtime Bard fan whose parents worked on Shakespeare productions at San Diego's Old Globe Theatre, Hanratty originally planned to be a professional opera singer. But while serving in the Korean War as a gunner in the Air Force, he was in a B-29 bomber crash that left his lungs and vocal cords scarred by chemical fumes.
So, instead of arias, he turned to arithmetic and computers, and struck it rich as the father of computer-aided design and manufacturing, aka CAD/CAM. In 1977, he earned a Ph.D. in computer science at UC Irvine.
Hanratty's multimillion dollar career detour enabled him to begin collecting rare books, capped by the 900-page First Folio now at UC Irvine. Published in 1623, seven years after Shakespeare's death, it's one of 235 known copies still in existence.
"It's hard to overestimate the importance of the First Folio," says UC Irvine Shakespeare scholar Julia Lupton, distinguished professor of English. Without it, 18 of the Bard's plays — including such favorites as "Macbeth" and "The Taming of the Shrew" — would have been lost to history, she notes.
The tomes originally sold for 15 shillings each, equal to about $200 now. Today, they go for millions. In 1978, UC Irvine's edition was purchased for $30,000 by a Los Angeles bookshop, then sold to Hanratty for eight times that amount in 1983, according to Eric Rasmussen, co-editor of "The Shakespeare First Folios: A Descriptive Catalogue."
Each folio has its own idiosyncrasies and backstory. "There's even one with a bullet hole through the middle," says Rasmussen, who will speak at the exhibit's opening night event in the Irvine Barclay Theatre.
The UC Irvine version's quirks include rust marks from a pair of scissors — probably used as a bookmark — and a maroon leather cover from the late 1800s or early 1900s that was fashioned from the skin of a Nigerian goat.
In addition to the updated binding, three of the book's pages vanished at some point and were replaced with replicas, most likely in the 19th century.
Such substitutions are common, Rasmussen says. Only a handful of surviving First Folios are 100 percent original, he notes. Among the rest, about four dozen cannibalized other first editions to replace lost pages. And another 30 copies, including UC Irvine's, are intact except for a few facsimile pages, Rasmussen says.
Part of the reason Hanratty donated his folio to the university was its odor. Stored inside his private vault, "it had begun to smell, and to smell very badly," he told the Los Angeles Times. He contemplated selling it, "but then I thought, well, I would like to see it again someday. I thought it would be better if it were available to everybody else, and to myself."
(Thanks to UC Irvine's temperature- and humidity-controlled vault in Special Collections and Archives, the foul fragrance is now gone, a library spokesperson says.)
In the decades since the folio came to UC Irvine, campus librarians have amassed a trove of "companion materials" from rare book dealers, some of which will be displayed for the first time at the exhibit, which will be located in Langson Library's main lobby.
The catalog of artwork and artifacts being showcased includes an index of banned books from 1559, an anatomy guide from 1604 that features "detailed illustrations of the gradual removal of layers of human flesh via dissection," a Geneva Bible from 1600 (which Shakespeare quoted in "Hamlet" and other scripts) and a Latin book about Plautus, the ancient Roman playwright whose plots and characters were borrowed by the Bard for such works as "The Comedy of Errors."
The goal is to explore Shakespeare's world, his muses and his influence on language, art and literature.
Curiously, the one item that won't be included in UC Irvine Libraries' First Folio exhibit — except on opening night — is the First Folio itself. For security reasons, the book is staying in the vault, says library spokesperson Cheryl Baltes. All the First Folio items in display cases will be detailed reproductions.
UC Irvine Libraries' "400 Years of Shakespeare's First Folio" begins Thursday at the Irvine Barclay Theatre with a 5:30 p.m. discussion between exhibit curator Derek Quezada, the former outreach and public services librarian in UC Irvine Libraries Special Collections and Archives who recently became rare books librarian at USC, and Shakespeare expert Eric Rasmussen, Regents Teaching Professor and Foundation Professor of English at the University of Nevada, Reno. The talk will be followed by a short performance from Macbeth, then move to Langson Library for a reception and exhibit viewing.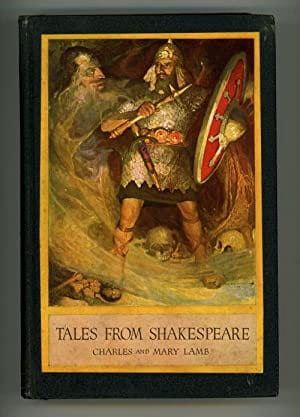 UC Irvine Libraries