Meet UC's 2019 Sustainability Champion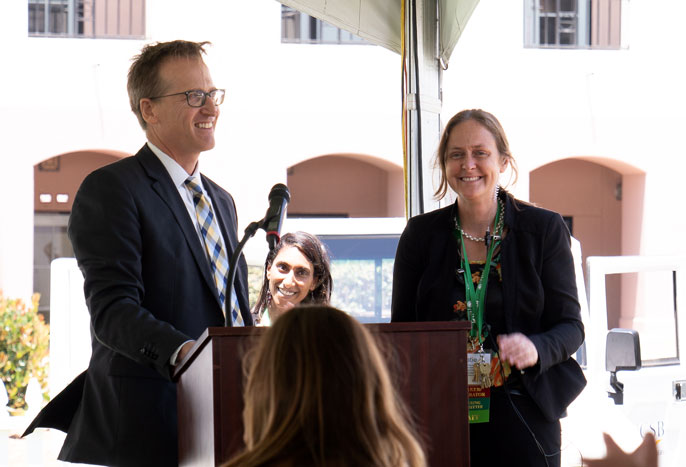 "I've always been interested in what happens when you pull a string; what comes after," says Katie Maynard.
This tension between cause and effect in the endlessly dynamic universe, from ecosystems to human systems, has molded Maynard's personal and professional lives. Her energy is galvanized by navigating the murky gray areas between certainty and obfuscation; inevitability and dynamism; thrown pebbles and the ripples they create — always alongside a passion for community-building and consensus.
Those qualities culminated in Maynard being named UC's 2019 Sustainability Champion this July, the latest milestone in a 15-year journey that has seen her rise from an undergraduate studying biology to becoming one of the university's most potent forces for environmental change.
Discovering a passion for social justice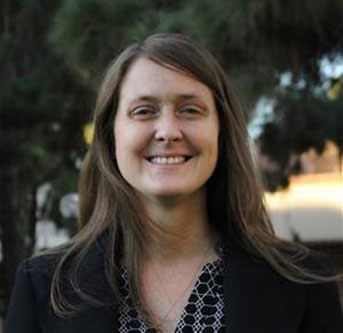 Maynard traces her journey back to her lifelong affinity for exploring the natural world. "Growing up I would often take hikes or go to the beach," she says. "It's where I could feel relaxed and be able to find myself. I felt a connection."
As her education progressed, she found herself drawn to a systems thinking approach in her studies. She found it fascinating to learn how various elements in nature were interdependent and was captivated by the process of figuring out how they worked together. This curiosity led to an undergraduate research project about what conditions create red tides — algal blooms that color the ocean a deep red.
While at UC Santa Barbara, she also discovered a passion for social justice activism, through which she quickly learned about environmental justice. And, in her first urban planning class, she was introduced to the concept of the Triple Bottom Line. This accounting framework — composed of social, environmental and financial outputs — encourages companies to consider factors beyond financial gain in their business practices. The Triple Bottom Line, Maynard realized, had woven a sustainability thread through all her studies; yet students did not often get a chance to apply it to real world problems and many courses weren't incorporating this holistic way of thinking.
Leaning on the social organizing skills she picked up through her activism, Maynard helped create the Education for Sustainable Living Program in 2004. This student-run organization, which has now been adopted at UC Davis, UCLA and UC Santa Cruz, produces courses and events to encourage interdisciplinary dialogue around sustainability-related topics. By participating, students can get credit for student-led courses and conduct research.
After graduating, Maynard began her career as UC Santa Barbara's event manager and sustainability coordinator — a role she still holds today. Through her significant contributions to championing local and systemwide sustainability, she has helped make UC labs more sustainable, established healthier campuses and fought food insecurity. She created the Campus Food Justice Forum and Edible Campus Project, helped advance UC's systemwide Global Food Initiative and has managed the California Higher Education Sustainability Conference (CHESC) for more than 15 years.
"Katie is the heart and soul of CHESC," says Fahmida Ahmed Bangert, director of sustainability at Stanford and co-chair of the CHESC Steering Committee. "She has delivered this conference for over a decade with a great deal of care, consistency and uncounted volunteer hours, building bridges and creating opportunities for others along the way."
Leading the next changemakers
Despite once again being this year's CHESC conference organizer, Maynard had no idea that she would be named UC's 2019 Sustainability Champion during the conference's closing celebration. Rachael Nava, UC's chief operating officer, surprised her with the news during a July 19 presentation that highlighted her many achievements. In her congratulatory remarks, Nava noted Maynard's dedication to sharing her wisdom with the next generation of sustainability champions.
"In her tenure at UC Santa Barbara, Katie has mentored an unmatched volume of student interns," Nava said. "She runs the Sustainability Internship Program with between 80 and 120 paid positions each year. By our count, Katie has now shared her sustainability knowledge and professional development skills with over 1,500 students!"
The role of teacher comes easily to Maynard; in fact, she thrives in it. "One of the things we work on together is how to take a complex problem and break it down," she explains of her work with student interns. "At many internships, the students come in and are given a really clear instruction manual: 'Do these tasks. Talk to these people.' Our internships don't have that — there's no manual because many of our projects have never been done before. The students have to work through each step, defining goals and developing effective tactics to reach them."
According to Maynard, this type of free thinking is a hallmark of UC.
"I love our academic environment because we can pose a question that's valuable to the university and our community, without knowing the answer," she says. "That allows us to be brave and try new things; to go into new projects with curiosity."
Following their internship, students know how to problem solve, to navigate ambiguity and to create order within a challenge. "They're proud of what they've accomplished and better prepared to take on jobs that they haven't specifically trained for," Maynard says.
How to be sustainable: 3 core concepts
The top three actions Maynard recommends for fostering sustainability are perhaps not what you'd expect, but they align closely with her people-systems approach to thinking.
First: Be collaborative. "One thing that I love about our sustainability work is that it brings together students, staff and faculty throughout the university to work together across job titles and divisions. It allows us to bring forward ideas for solutions that wouldn't be possible otherwise. I'm honored to receive this award, but I think my name came up because so much work is happening on my campus. That's because of everyone who partners and works with me."
Second: Practice mindfulness. "Think about the impacts of your actions. When you turn off the lights or use less water, remember why you are doing so. Consider where our water comes from and who is without water today. Remember that your actions affect the environment and others. Our inefficiency in using resources is not only because we take them for granted, but also because we adopt routines and continue to follow them. When you learn to practice awareness of why you're taking particular actions, you're always considering their effectiveness and whether you can do more."
Third: Engage. "One thing I love about living in California is that we believe strongly in shared governance; we all have a say in anything that happens. We each have a role in giving feedback about what we want in our community and what's working or not working. Civic engagement is key to creating sustainability infrastructure. I'm also a commissioner for my local planning commission, and my best day is when people show up for public comment, even if they are critiquing me. That's when I know they're engaged, and their complaints help me make better decisions."
Maynard offers a piece of parting advice for would-be sustainability leaders — when you're seeking support with a project, treat all your collaborators as volunteers. Even if a role seems to connect to someone's job description, she says, you're asking them to take on work in addition to their existing projects. And those tasks, not yours, may be the priority.
"We always start by honoring the partners we will be working with," Maynard says. "We build relationships, create a collective vision and make sure they're feeling really good about the goal we're taking on together."