October 12, 2022
Paula Hermann
,
UC Newsroom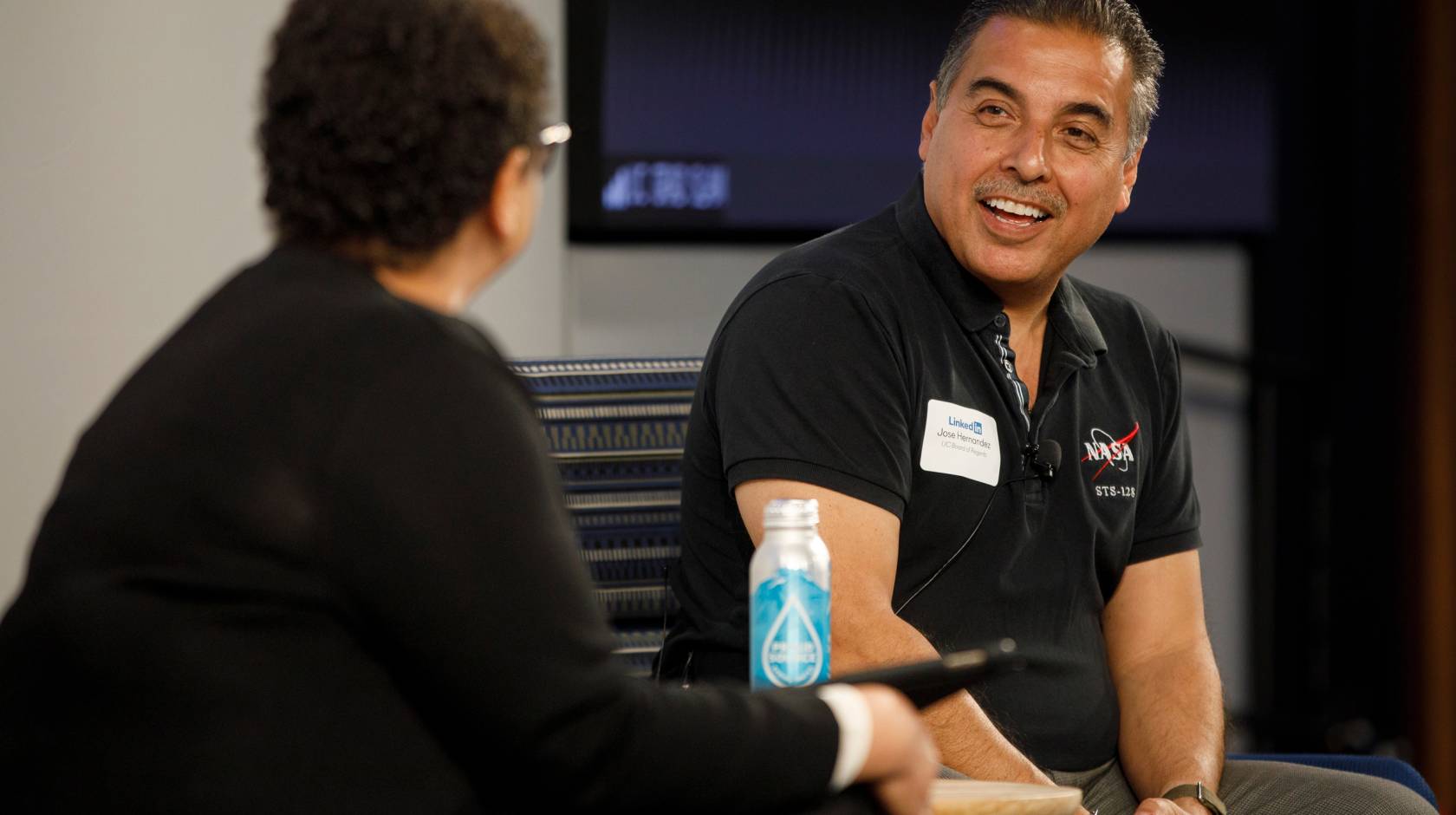 Credit: Robert Durell/University of California
Like many young boys, José Hernández dreamed of traveling to outer space. A son of migrant farmers, he knew that he would have to overcome seemingly astronomical obstacles to achieve his dream: learn English, graduate from high school, earn a college degree and compete against 12,000 applicants to secure a spot in the NASA astronaut training program.
With sage advice from his father, outsized fortitude and a disciplined work ethic, Hernández became a first-in-family college graduate and a member of the 2004 NASA astronaut class. While his space odyssey is a pinnacle of his career, it is not the one that brings him the most gratification. During this year's Grad Slam, an annual research competition, Hernández took a few moments away from his role as a member of a distinguished panel of judges to share his proudest accomplishment and lessons from his remarkable life with UC Vice Provost Yvette Gullatt.
Some highlights from the interview with the UC regent and UC Santa Barbara alumnus as well as the full interview are below.
The value of persistence
One valuable lesson Hernández learned on his journey to outer space was stick-to-it-iveness. He applied to the NASA astronaut training program shortly after graduate school and was rejected — not just once, but 11 times.
"The letters always ended with 'You are welcome to reapply.' So, I did, and eventually, I got accepted," he said.
The importance of differentiating yourself 
After receiving multiple rejection letters, Hernández researched the credentials of NASA astronauts and discovered that they were pilots and scuba divers. He earned a pilot's license and a scuba certification and explored how he could invest in himself to be in a better position to succeed.
"I knew the U.S. was working with Russia to build the International Space Station. I took a job in Russia to learn the language, and that is when NASA called. You must have the minimum requirements to do a job, but you also must do things that will differentiate yourself from the competition," he advised.
Hernández was selected as a mission specialist on the 14-day Space Shuttle Discovery Mission STS-128 in 2009; the crew performed spacewalks and resupplied the International Space Station.
Adversity creates opportunity
Hernández spent much of his career in the X-ray laser program at UC's Lawrence Livermore Lab. When he learned the program was being cancelled, instead of quitting, he refocused his efforts to find an alternate use of the X-ray tools he had helped develop.
"Adversity creates opportunity," said Hernández, whose positive attitude and new perspective led to a whole new field of study, Computer-Aided Diagnosis (CAD). He co-developed the first full-field digital mammography imaging system, which revolutionized X-ray imaging and has saved countless lives by enabling physicians to detect and diagnose cancer at early stages.
"People expect me to say that going to space was my proudest professional moment. It wasn't. It was inventing that mammography device, because it has saved thousands of lives," Hernández said.
Research matters
Hernández values research and STEM education.
"Any work that helps us find a cure for cancer, diabetes, insomnia is important — we need to study and understand these diseases so we can make our life better," he said. "UC students are working on the bright future of California and the world. This research is critical to our future."
Hernández, president and CEO of Tierra Luna, an aerospace engineering consulting company, also owns a vineyard, which his father helps manage. He created the Reaching for the Stars Foundation to motivate children in the Central Valley to pursue careers in STEM fields. He has written two books, and Amazon Studios is current producing a movie, "A Million Miles Away," depicting his inspirational life story.