From a life in poverty to a career in medicine, thanks to DACA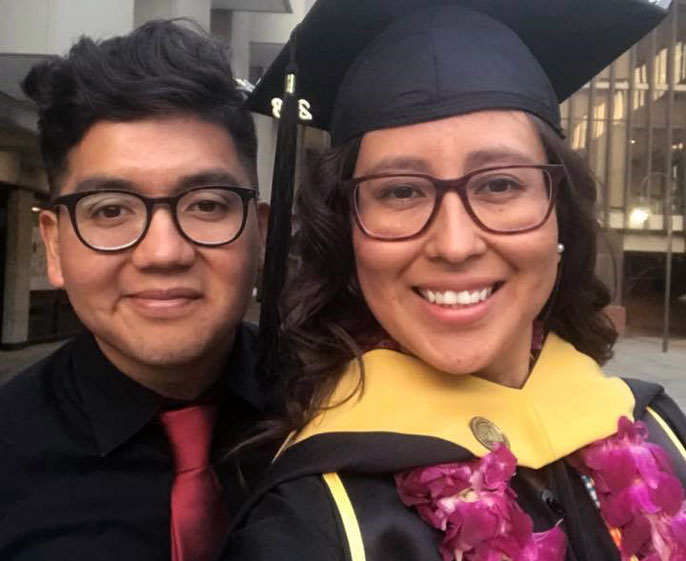 Rene Amel Peralta
Campus: UC Irvine
Degree: B.S., chemistry
Hometown: Pomona, Calif.
Dream: Serve my community as a physician that patients can speak to and trust
As a 6-year-old growing up in a poverty-ridden community in Mexico, Rene Amel Peralta worked on construction jobs when he should have been learning his ABCs. His only goal was to escape the poverty, neglect and violence that confronted him on a daily basis.
Today, at 32, his ambitions are very different: he's aiming for medical school and wants to become an emergency room physician to help people in low-income and underserved communities with their most pressing health needs. He is also working to grow a program he co-founded to spark young people's interest in science and engineering.
"My story is one where I worked really hard. But I also wouldn't have gotten here without people who helped me along the way. So I want to be that person who is there to help the next generation," said Amel Peralta.
His dreams of giving back are now in jeopardy, threatened by the Trump administration's decision to rescind the Deferred Action for Childhood Arrivals (DACA) program, the policy that has allowed Amel Peralta and others who came to the United States as children to legally live, work and study here without fear of deportation.
"DACA has been monumental for me," he said. "Things everyone takes for granted — just being able to be financially secure and feel safe in society — those are luxuries I didn't have."
He graduated from UC Irvine in 2015 with a degree in chemistry, in large part thanks to opportunities afforded to him through DACA. It's a feat all the more remarkable given he had never stepped foot in a classroom until he was 18 years old.
When he was orphaned at 13, he crossed the border as an unaccompanied minor with his 15-year-old sister Gabriela. The two attempted to carve out a life in New York, but without work authorization or adults to care for them, it was rough going: They scraped by working under the table, often for below minimum wage, in odd jobs from dry cleaning to dishwashing and domestic help.
Eventually, Amel Peralta and his sister made it to California, where a family friend, Brian Roge Fonteyn, took them in, taught them English and paid for them to enroll in community college.
When Amel Peralta began taking classes at Mt. San Antonio College in Walnut, California, it was his first experience with formal education.
Luckily, he and his sister were both bright and eager learners and quickly excelled in their studies.
In 2015, Amel Peralta earned his bachelor's degree from UC Irvine, the same day his sister earned hers from Cal State Los Angeles, where she has since gone on to complete a master's in social work.
"That was an extraordinary day for us. It was something I wouldn't have thought possible," he said.
Starting a career in medicine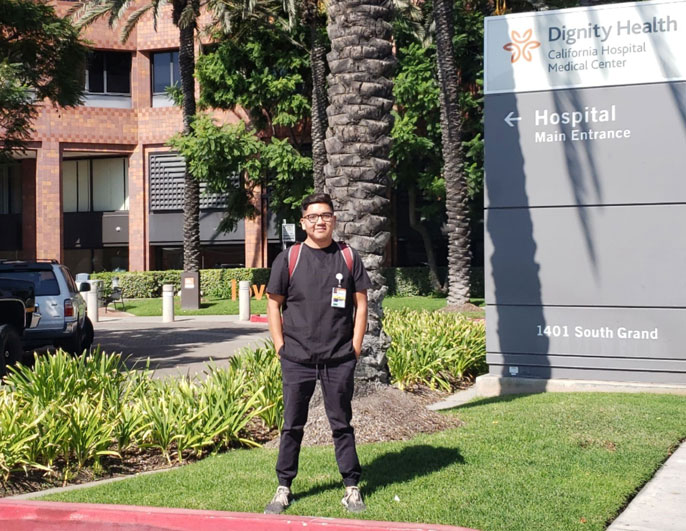 He is now a clinical study coordinator in the department of nephrology at UC Irvine Health, where he administers surveys and collects data on dialysis patients to evaluate how their daily habits affect their kidney health. He also works at Dignity Health California Hospital, in downtown Los Angeles, where he serves as a medical scribe, charting doctor-patient encounters in the ER.
"If DACA is rescinded, I will have to immediately terminate these positions because both jobs require work permits," he said.
His medical school ambitions will also be in jeopardy. Even if he could enroll in and receive an M.D. from the limited number of schools who admit undocumented students, he would be unable to complete a residency, let alone practice medicine, without proper work authorization.
That would be a loss not only to Amel Peralta, but to a community in desperate need of bilingual and culturally competent doctors who can relate to their economic and social concerns.
Yet, even with his own future uncertain, Amel Peralta continues to invest in the futures of others. One of his passions: giving young people in low-income schools the opportunity to engage in research and envision the possibilities for their future.
After graduating from UC Irvine, he traveled to schools across the country, delivering science-related programming and special events with the organization Great Minds in STEM. He has since co-founded an organization, the UndocuSTEM Project, that hosts annual conferences where high school, undergrad and graduate students can geek out over their love of science, network with others and share resources to launch their careers in STEM.
"I want to show other young people what is possible, even if you come from poverty, from living in the shadows, from a difficult upbringing," he said. "All we need is opportunity. We are super-motivated. We just need the chance to put those talents to work."