April 6, 2023
Malia Reiss
,
UC Davis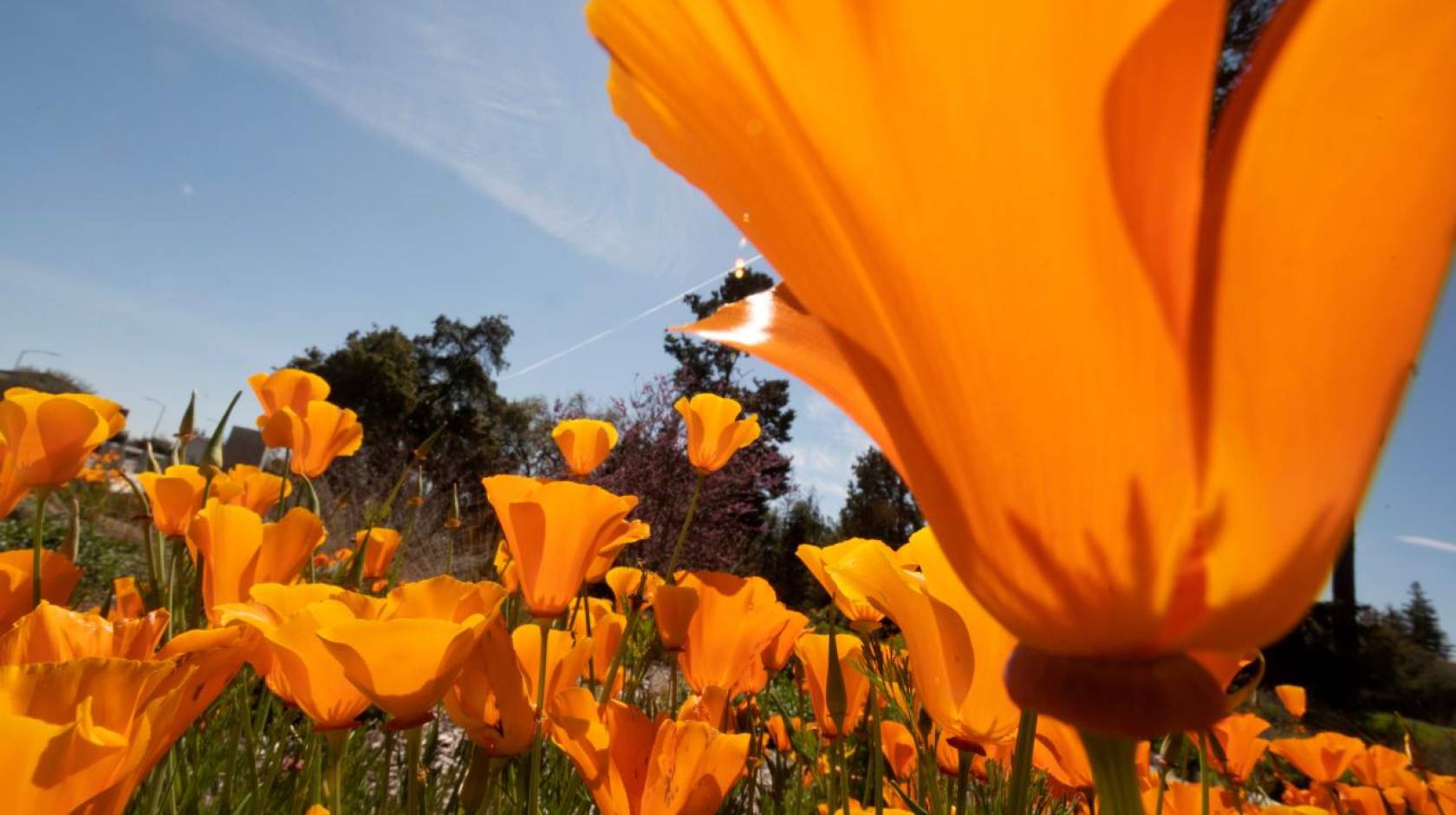 Credit: Gregory Urquiaga/UC Davis
The term "superbloom" has been thrown around excitedly this year, especially after the rainy season that just hit California — more than 600 percent of the normal rainfall. This month, California is coming alive with the radiant colors of wildflowers. 
I got a preview last weekend at North Table Mountain Ecological Reserve. Blanketed with the most vibrant greens, oranges, purples, and whites, it felt like I was walking through a watercolor painting. North Table Mountain lived up to its name: The entire landscape was flat, except for the majestic, twisting blue oaks that stood against the crisp, cloudless sky. It seemed as if the blanket of color would never end until I reached the cliffside — an immediate drop into an impressive canyon complete with a 160-foot waterfall. 
As a UC Davis environmental science student, I had been looking forward to this moment for months. Almost every plant ecology professor has raved to me about this Northern California gem. What better time to visit than during what many are anticipating as California's superbloom? 
But will this season's explosion of wildflowers truly be "super?" UC Davis plant ecology professors weighed in.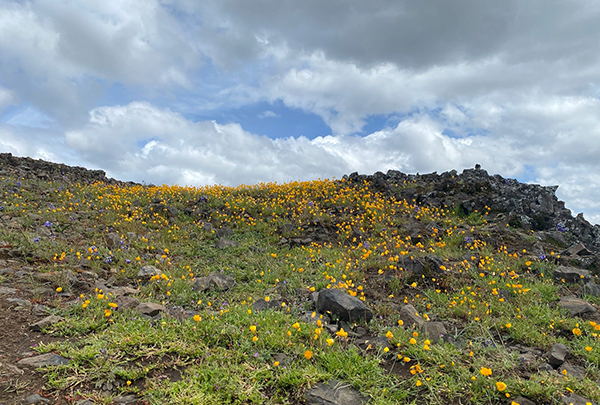 Recipe for a superbloom 
According to plant sciences professor Jennifer Funk, a superbloom occurs after a wet year that follows several dry years. Annual wildflowers, which live only one year, won't germinate in dry years and will remain dormant in the soil until conditions are right. When all of these dry years happen in a row, wildflower seeds accumulate in the seed bank. 
"A very wet year — like the year we are having now — could trigger germination of all of these seeds at once, leading to a superbloom," Funk said. 
But even with a stocked seedbank and the right conditions, keeping the seeds that do germinate alive is just as important, according to evolution and ecology associate professor Jennifer Gremer. "Maintenance rains," sunlight, cold temperatures, and avoiding disturbance are all important for seedling survival. 
When all of the factors align, wildflowers are given the go. 
"It's absolutely breathtaking," marveled Gremer. 
Will it happen? 
After this intense rainy season, it seems like everything adds up, but will the bloom really be as huge as expected? Among UC Davis professors, there is no consensus. 
Funk isn't too optimistic about a record superbloom, while plant sciences professor Daniel Potter is: "My sense is that, given the extended period of drought that preceded this year's record-setting precipitation, superblooms are very likely in many areas of California."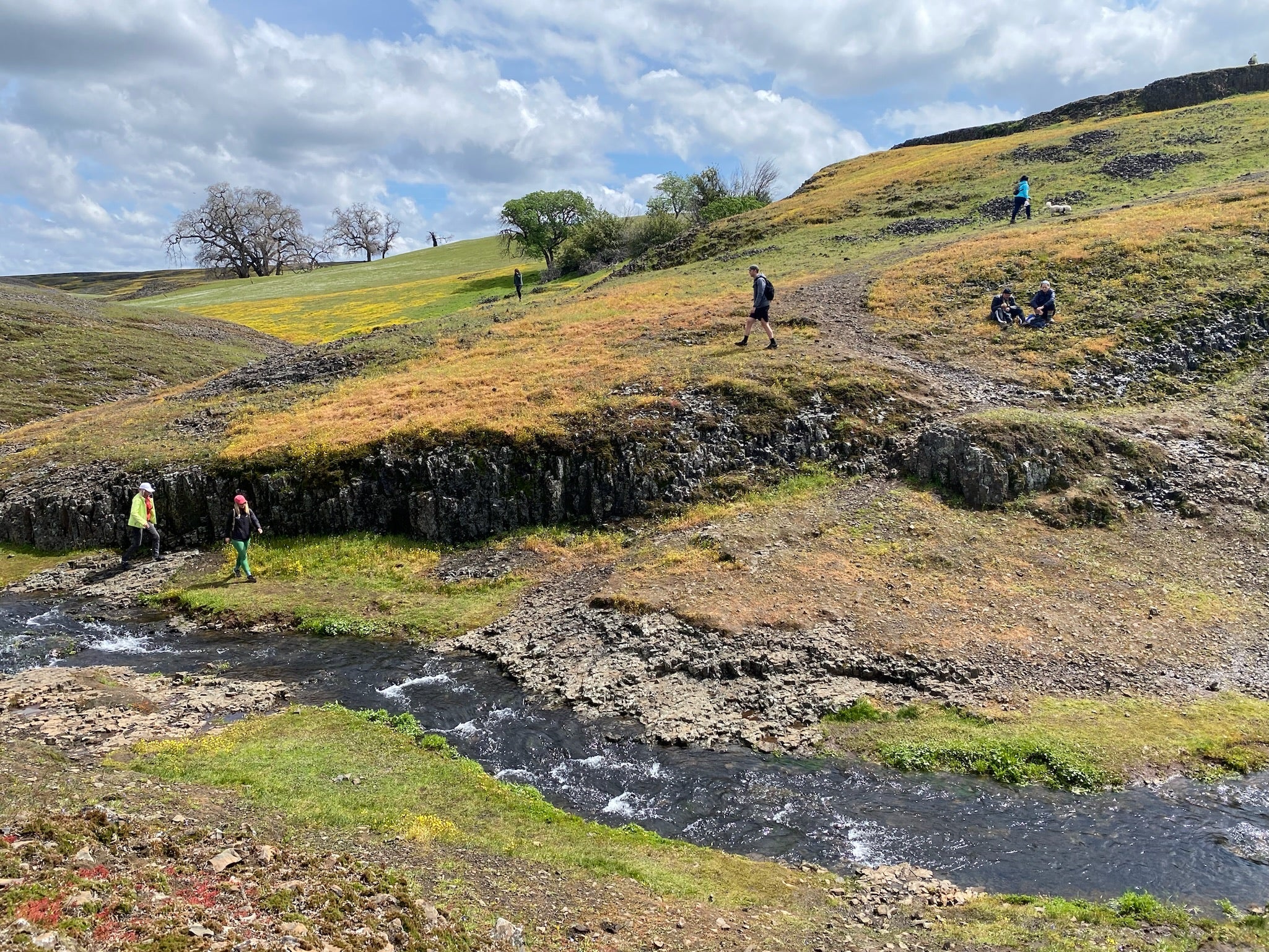 To plant sciences professor Valerie Eviner, a superbloom may be likely, but only in certain parts of California. In the wetter Northern California, the best blooms often result less from water and more from fire or well-timed grazing that reduces non-native grasses and allows wildflowers to thrive. In areas where non-native grasses explode with the rain, a superbloom is not likely. With the intense rainy season, the desert could be plausible, but timing of rain could make or break it.
Responsible wildflowering 
Whether or not there is an official "superbloom," it's undeniable that California will come alive with wildflowers — and their brilliance will attract crowds. 
Each flower we crush from a selfie is a lost opportunity to rebuild the seed bank for the next superbloom.
Valerie Eviner
My hike at North Table Mountain was tinted by the three-too-many candy wrappers that I picked up along the trail, by the occasional bag of dog waste, and by watching people trample on the delicate flowers, even with the trail less than a foot away. 
With the heavy traffic coming to these areas, it's important to visit responsibly and with Leave No Trace principles in mind. 
"Wildflowers are one of the most important resources we have to ensure the resilience of California's grasslands," said Eviner. "They are our emergency first responders when grasses fail — whether due to fire, drought, or soil disturbance."
California wildflowers give ecosystems different strategies to cope with changing and unexpected conditions. They provide food for herbivores, ground cover to minimize erosion, and of course, beauty.
"This is why it's really important to visit them respectfully," said Eviner. "Each flower we crush from a selfie is a lost opportunity to rebuild the seed bank for the next superbloom. So stay on the trails."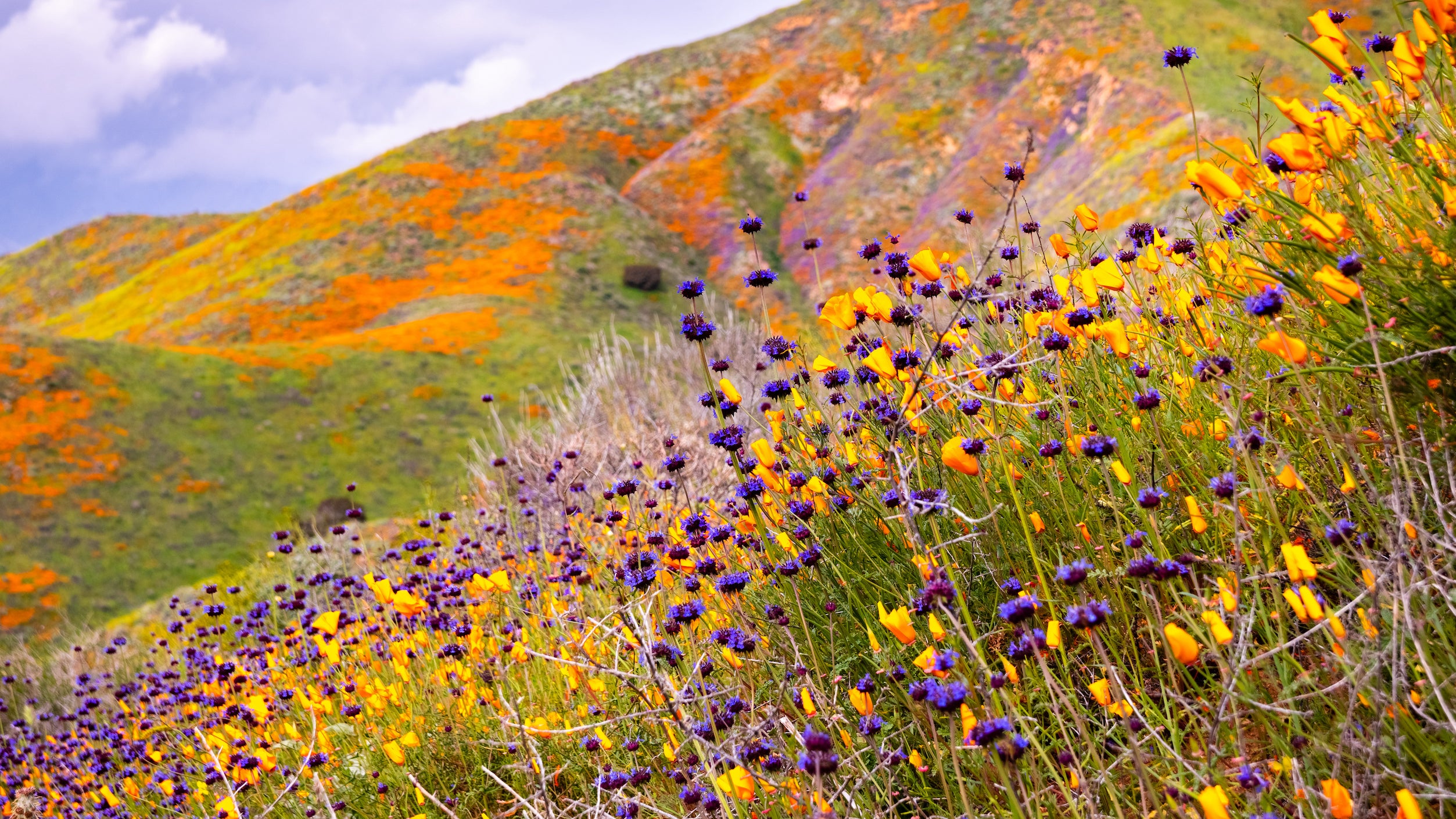 Potter advises people minimize their impact by heading to less-crowded sites, going on less-crowded times, such as weekdays, and checking relevant websites ahead of time for conditions, required permits, and restrictions. 
Guided tours are also a fantastic way to "minimize impact, while also learning a lot," said Potter. 
Climate change and superblooms
Climate change patterns make it even more important to stay on the trails. With climate variation, superblooms could be an increasingly rare event with cycles of unpredictable and record-breaking drought, heatwaves, and rainfall. 
Gremer worries that increased soil temperatures and shifting rainfall patterns will reduce seedbank and seedling survival and confuse germination cues. She has already observed these effects in her studies on California jewelflowers. 
Susan Harrison, a UC Davis environmental science and policy professor, has also shown that mid-winter droughts have become more common, negatively impacting California grassland flora. 
But even as superblooms get more rare, climate change could enhance the ones that do happen from the accumulation of annual wildflowers during the dry years. 
"With an increased variation in rainfall across years, the pattern of dry and wet years might trigger the blooms," Funk said.
6 places to see wildflowers 
In Northern California, the professor-favorite wildflower spot (and now my favorite) is North Table Mountain Ecological Reserve. Flowing with waterfalls and blanketed in orange poppies and purple lupines, the reserve near Oroville reliably blooms most years. Make sure to acquire a CDFW Lands Pass beforehand.
"It's a bit hard to get to, but so worth it," said Funk.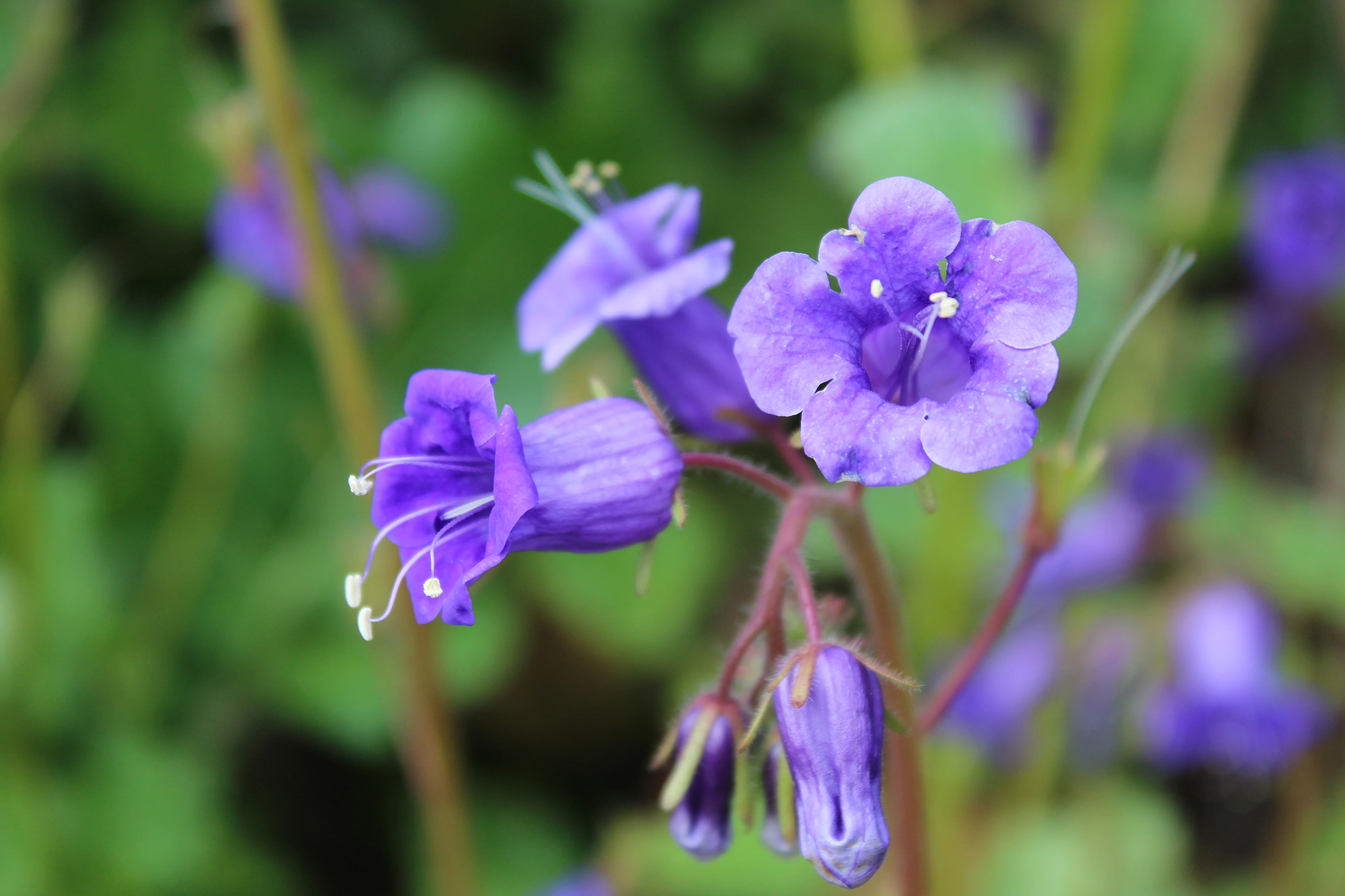 Heading toward Lake Berryessa should also bring some luck. For those itching to see rare ecosystems, Jepson Prairie Preserve, a UC Davis natural reserve, is a wonderful place to see the vernal pools blooming; tours are also offered. Stebbins Cold Canyon is another UC Davis natural reserve that wildflower-lovers will enjoy.  
Because the timing is tough to predict, Eviner recommends watching social media and checking several websites such as the Theodore Payne Wildflower Hotline, the Natural History Wanderings reports and hotspots, and Desert USA's reports for Southern California.  
Other spots to check out near Davis:  
Malia Reiss is a science news intern with UC Davis Strategic Communications. She studies environmental science and management at UC Davis.