January 20, 2022
Carolyn McMillan
,
UC Newsroom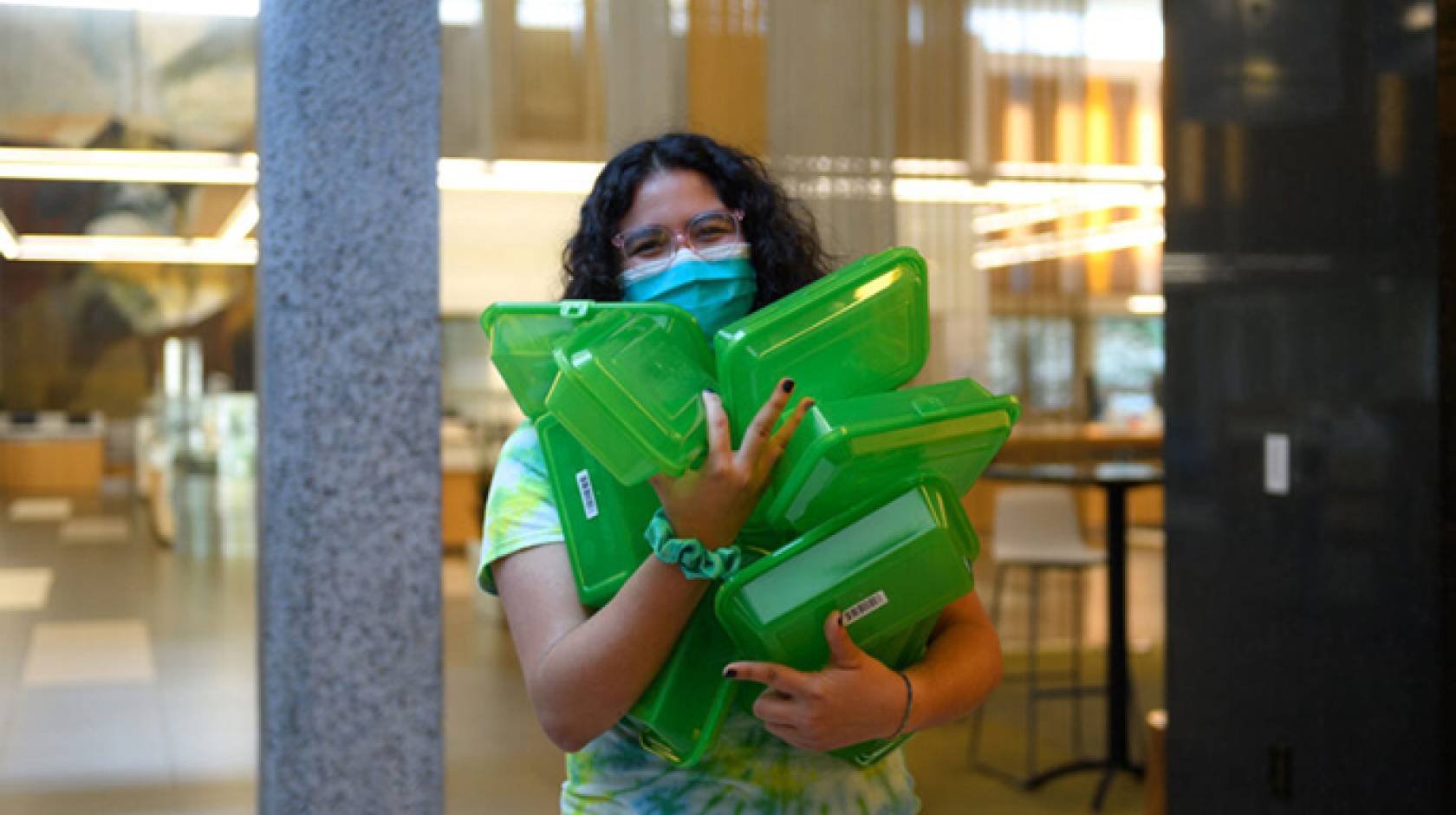 From raging wildfires and catastrophic flooding to rapidly thawing permafrost, the environmental impacts of climate change were evident on both a local and global scale last year — but the University of California is pointing the way to a future that is both resilient and sustainable.
All 10 campuses and their affiliated health systems have hit their goal of reducing greenhouse gas emissions to 1990 levels. The achievement is even more notable given UC's significant growth over the last three decades, even as the university continues to tackle the major challenge of natural gas consumption.
The climate action milestone is one of several highlights in UC's just released annual sustainability report, which tracks the university's performance on climate, energy, food, green building, health and wellbeing, procurement, transportation, water, waste and more.
"Though we have much more work to do, we are proud of this progress toward achieving our ambitious goals around sustainability, climate action and climate justice," UC President Michael V. Drake, M.D., said in an introduction to the report. "Through our collaboration, creativity and perseverance, we can continue to accelerate UC's efforts across our research, education and operations, and combat global climate disruption in California and around the world."
Green energy initiatives have contributed significantly to UC's climate progress. More than 100 renewable energy projects have been brought online across the UC system, generating more than 53 megawatts of clean energy. In addition, campuses and health systems are procuring 100 percent carbon-free electricity from a variety of off-site sources through UC's own Clean Power Program.
The bottom line: fully 55 percent of UC's electricity is currently produced from renewable or carbon-free sources. And it's on track to hit its 2025 target of 100 percent clean electricity.
Even with this progress, UC continues to identify areas where improvement is needed. While emissions from purchased electricity will be eliminated by 2025, UC's current reliance on natural gas for heating and electricity generation remains a major challenge. In the 1990s and early 2000s, UC invested in gas-fired combined heat and power plants, which were environmentally superior to all of the other options at the time. Seven UC campuses constructed combined heat and power plants, and they're all still operating, providing relatively low-cost power and resilience during utility power outages.
Given UC's historical investments in energy efficiency and clean electricity, 80 percent of UC's remaining greenhouse gas emissions originate from the on-campus burning of natural gas. Decarbonizing campus energy systems while maintaining reliability is a key challenge for UC — just as it is for the state of California — and planning for that decarbonization will be the focus in the coming year.
"We face significant cost and technological barriers to phasing out natural gas emissions. However, with other carbon neutrality strategies on track, we will be increasing our focus on overcoming those barriers," said David Phillips, UC's associate vice president for Capital Programs, Energy & Sustainability.
Other milestones from the past year include:
UC's Energy Efficiency Partnership has now received more than $100 million in energy efficiency incentives from utility companies since the program launched in 2004.

There are now more than 1,400 electric vehicle charging stations at UC locations.

Expansion of the university's sustainable food program, resulting in 19 percent of all UC food purchases now meeting sustainability criteria.

National recognition for UC's sustainability efforts, including a green power award from the EPA and platinum ratings for UC Irvine and UC Berkeley in The Association for the Advancement of Higher Education's Sustainability Tracking, Assessment and Rating System (STARS).
In addition to its operational successes, UC remains committed to identifying and supporting innovative projects that address climate change through teaching and research. Last year, UC launched new collaborative efforts to accelerate critical research at the intersection of climate change, social justice and health inequities: the new UC Center for Climate Justice is one of the first university-based institutions dedicated to equitable climate action in the country, while the UC Center for Climate, Health and Equity will advance equitable and just climate solutions that promote human health.
"The massive wildfires and air pollution in California in 2021 brought home the urgency of tackling climate change and addressing the health effects on low-income communities, the elderly, children and others who are more vulnerable in our society," Phillips said. "Our biggest priority is ensuring that UC's success provides a blueprint that can help communities across California meet the challenges ahead."