The Class of 2017 marches on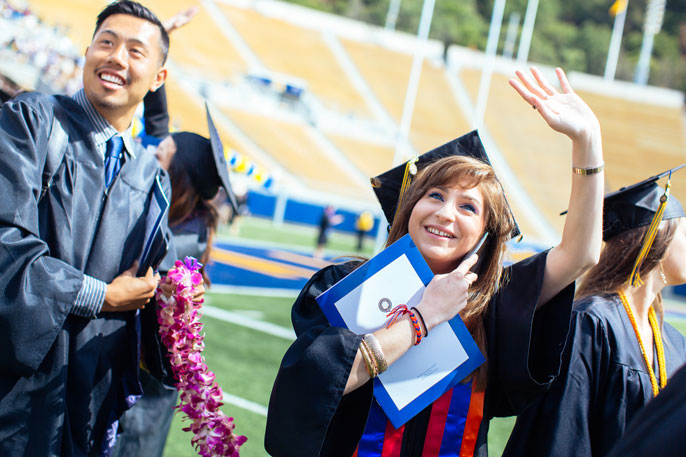 As the strains of "Pomp of Circumstance" ring out over auditoriums and quads this spring, roughly 67,000 new University of California graduates will join 1.8 million alumni in going forth to make their mark on their world.
Here are a few members of the Class of 2017 who took advantage of the wealth of opportunities that UC affords to unlock their unique strand of brilliance.
They've used their time at college to pioneer new virtual reality technologies, free child slaves, help local youth finish high school, and build a student sustainability movement. And they've done it without losing time to learn, have fun and build lifelong connections.
Sayah Bogor, UC Berkeley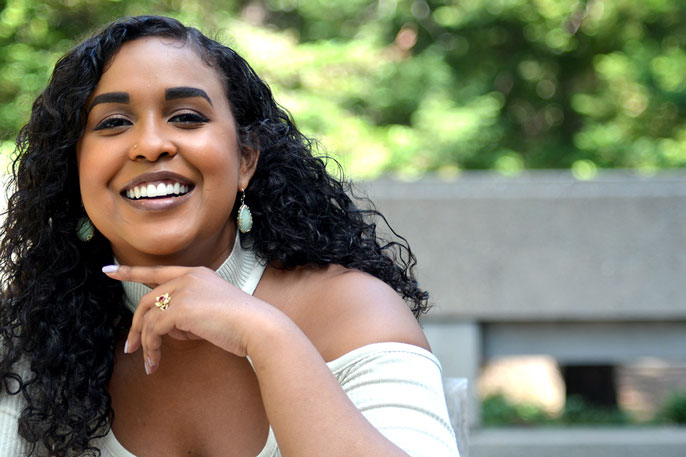 Somali native Sayah Bogor went from being a typical kid headed out for ice cream with her best friend to living as a refugee in the space of a single afternoon.
Bogor was just 5 years old when a sudden outbreak of violence in her Mogadishu neighborhood forced her and her family to grab the few things they could carry and flee on foot to neighboring Kenya.
For two years, Bogor and her mother and younger brother struggled almost daily with hunger, illness and grueling living conditions in a refugee camp in Nairobi until they obtained visas to come to the U.S. From there, it was a long road through trauma and isolation to, ultimately, a degree from Arizona State University with a major in genetics and cellular development.
Bogor received a full ride to UC Berkeley's master's of public health program. As part of her study, which focused on infectious diseases, she traveled to Bangladesh to help patients with cholera and diarrheal infections, illnesses that had ravaged her family in the camps.
"I feel like I've grown up so much during these two years," she said. "I can just have normal problems … Like, what do I want to do after graduation?"
Learn more: http://news.berkeley.edu/2017/05/09/sayah-bogor-masters-in-public-health/
Gabriela and Danielle Abraham, UCLA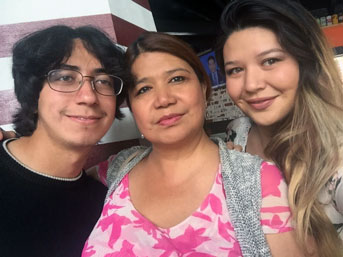 As a teenager growing up in Puebla, Mexico, too poor to have plumbing, or sometimes, even shoes to wear, Gabriela Abraham dreamed of going to college. This weekend, 25 years after she arrived in the U.S. without so much as a high school education, the Los Angeles Valley College transfer student will complete that dream, graduating from UCLA summa cum laude.
Standing alongside her in cap and gown will be the person she most credits with supporting her in attaining that distinction: her daughter Danielle.
Mother and daughter were both students at community college when they received acceptance letters to UCLA, within hours of each other. While helping each other to study and stay focused, they also stood shoulder to shoulder to mentor dozens of prospective transfer students as volunteers with UCLA's Center for Community College Partnerships (CCCP).
"We're constantly working as a team and keeping each other grounded … We're more than mother and daughter. We're friends, and we definitely help each other a lot," said Danielle. "Our years together at UCLA have been amazing."
Learn more: https://www.universityofcalifornia.edu/news/mother-and-daughter-set-graduate-together-ucla
Jesse Abrams, UC Santa Cruz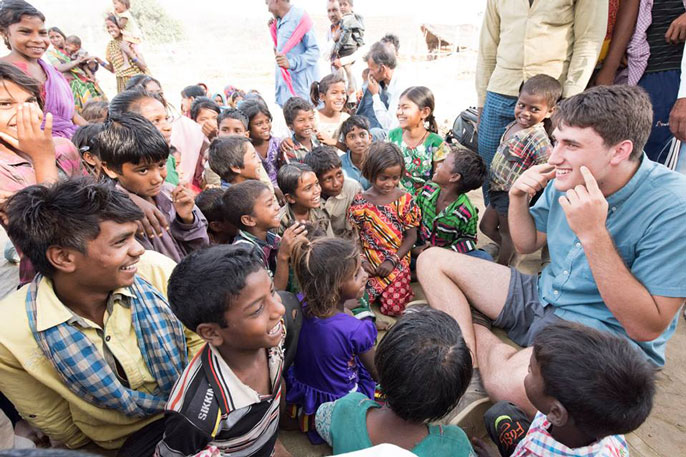 There are not many undergraduates who can count working to free people from slavery among their undergraduate credentials. But UC Santa Cruz's Jesse Abrams is doing just that via a student-led organization he founded, called the Freedom Coalition, which works to free villagers in India from debt bondage slavery.
In establishing the program, Abrams got assistance from resources on campus such as the Everett Program, a seminar in social entrepreneurship that he said was invaluable for learning "what works and what doesn't" in creating organizations to advance social change.
A graduate of Cypress Charter School in Santa Cruz, Abrams briefly considered going to the East Coast for college. But he quickly realized that he couldn't find another university that fit his love for beach volleyball and social activism as well as the one in his own backyard.
"There is no such thing as a typical Santa Cruz student," said Abrams. "Whoever you are, that is the person your education here is meant to help you to develop."
Learn more: https://www.universityofcalifornia.edu/news/student-modern-day-abolitionist
Sara Cratsenburg, UC Santa Barbara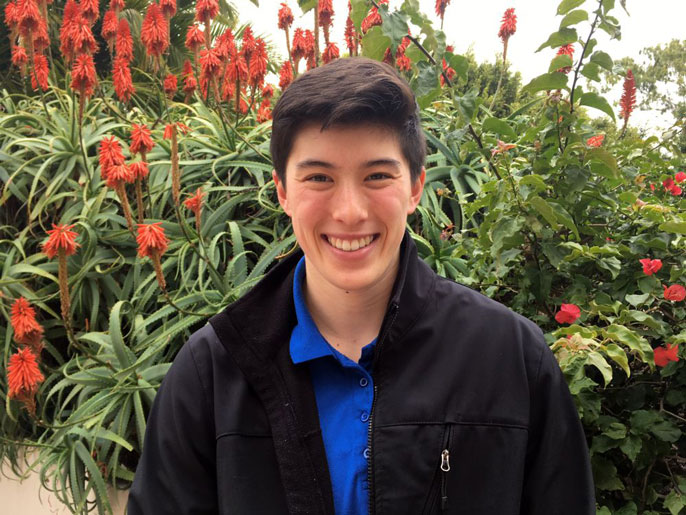 Feminist studies major Sara Cratsenburg is set to blow up more than a few gender stereotypes. She is one of the first women from campus, to say nothing of feminist studies majors, to go into a combat post in the Army, which only opened such roles to women in 2015.
Cratsenburg discovered the Reserve Officers' Training Corps (ROTC) after coming to UC Santa Barbara as a rower. Joining the program as a sophomore, she rose through the ranks to become cadet commander for the campus's Surfrider Battalion.
Last summer, she shadowed a female active duty lieutenant as part of a cadet troop leader training. That fueled her interest in field artillery, and in being part of the new generation of women combat soldiers.
After graduating this month, Cratsenburg heads off to Basic Officers Leaders Course at Fort Sill, Okla., where she will train as a field artillery officer. She will serve as a platoon leader with the 101st Airborne Division after training. She is excited to lead the way as a member of the first generation of women combat soldiers.
"I figured if I wanted to sit at a desk somewhere I would just have a civilian career," Cratsenburg said. "It's go big or go home with me."
Learn more: https://www.universityofcalifornia.edu/news/ready-lead
Dennis Chiang, UC San Diego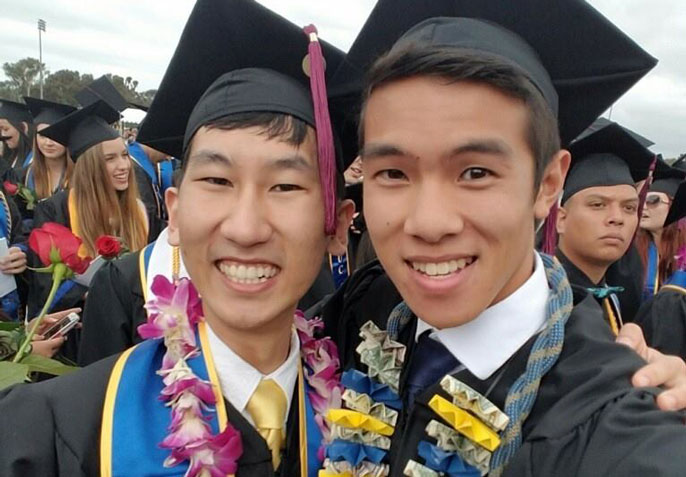 Like many other tech entrepreneurs, UC San Diego engineering major Dennis Chiang got his start in a basement. But he and his fellow students weren't exactly working around dust-gathering garden tools and retired sports equipment as they developed and launched their startup, called Nanome. Their Basement — UC San Diego's high-tech incubator for engineering entrepreneurs — included access to some of the most cutting-edge research equipment and world-renowned experts anywhere.
Just the resources needed for a group of inventors looking not only to create a new company, but to revolutionize a field.
Nanome is building virtual reality technology that will enable scientists, primarily drug manufacturers, to visualize and explore nanoscale materials as if they were large enough to touch and to hold. In his role designing and implementing the programming behind the product, Chiang tests the virtual reality experience for glitches and then does the programming to fix the bugs.
For the lifelong video gamer, it's a dream job.
"Virtual reality is barely two years old," he said. "The possibilities are endless. One day, when VR is everywhere, I'll be that grandpa who's able to say, 'I was part of that right from the beginning.'"
Learn more here: https://www.universityofcalifornia.edu/news/pioneering-new-dimension-virtual-reality-nanoscale
Amanda Eke, UC Davis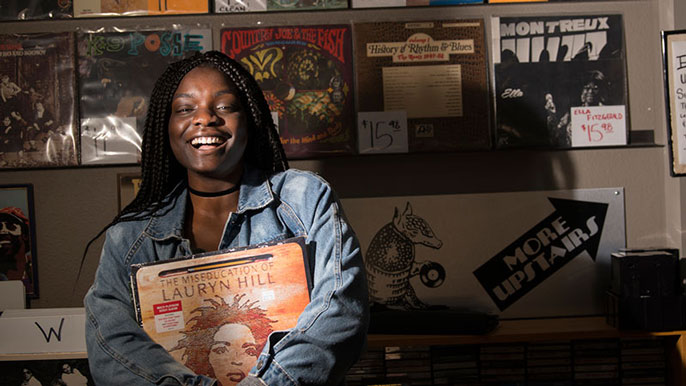 It is said music is a universal language. That should help new UC Davis graduate Amanda Eke as she sets off on her next gig: a prestigious Fulbright scholarship in Malta, where she plans to use her prodigious musical knowledge and ability to build cultural bridges to teach English to students at the University of Malta.
Eke picked up a saxophone in sixth grade and was hooked. She has since added keyboards, bongos, trumpet and ukulele to her repertoire. As a participant in the McNair Scholars program, Eke — who majored in gender, sexuality and women's studies — found her voice as a scholar and academic.
"Maybe a part of me has always been a thinker, but it wasn't until I went to college that I realized it — and how much I want to create new knowledge," she said.
Learn more: https://www.ucdavis.edu/news/7-uc-davis-students-grads-awarded-fulbright-grants/
Andrew Hallak, UC Irvine
Lancaster, Calif. native Andrew Hallak started college intending to study medicine and how cells work together. He soon discovered his interests lie in promoting interaction on a larger scale: uniting people to address global challenges.
As a sophomore, the son of Palestinian immigrants had a life-changing opportunity to take part in the Olive Tree Initiative, a 30-week conflict-resolution intensive project that culminated in a trip to Israel and Palestine. The experience brought him face to face with family he'd never met — and people on all sides of an emotional and nuanced issue.
"We would have breakfast in a refugee camp, and by noon we were back in Israel meeting with representatives of the prime minister," he said. "Every day we crossed physical, mental and emotional boundaries in order to understand the issues on the ground."
Now a graduate in international studies with a minor in earth and atmospheric sciences, Hallak is interested in how more effective resource management can address global conflict.
A recipient of UC Irvine's Dalai Lama Scholarship, Hallak founded Global Partners for Sustainability, which brings together students in disciplines from art to engineering to collaborate on projects that promote greener living. "We all have a role to play but those roles are different," he said. "The question is, how can we bring folks together to work towards a common goal?"
Learn more: https://news.uci.edu/feature/joining-forces/
Walid Hamud-Ahmed, UCSF
Newly minted UCSF physician Walid Hamud-Ahmed credits his medical school experience with providing him with his second-best life education. His first: working nights, summers and weekends with his brothers at his family's Fresno convenience store.
"If you can do a 12- to 16-hour shift in the store, you can certainly study six hours a day," said Hamud-Ahmed, one of six children of Yemeni immigrants. He and his brothers would be at the store from sun-up to sundown over the summer, handling the cash register, sweeping and stocking shelves.
"That drilled in us a lot of patience and perseverance, as well as how to deal with people and solve problems."
It seems to have paid off for Hamud-Ahmed, who graduated UCSF with one of its highest honors: the Gold-Headed Cane, given to graduating UCSF students who are voted by their peers to represent the qualities of scholarship and devotion to the patient that characterize the true physician.
At UCSF, he researched gun violence and emergency room interventions that physicians can take to keep survivors from falling victim to further violence.
"People at UCSF are daring and bold enough to ask the very difficult — even taboo — questions that no one else is asking," he said. "It really encourages you to be cutting-edge."
Learn more: http://medschool.ucsf.edu/features/commencement-equitable-vision
Cynthia Romero, UC Riverside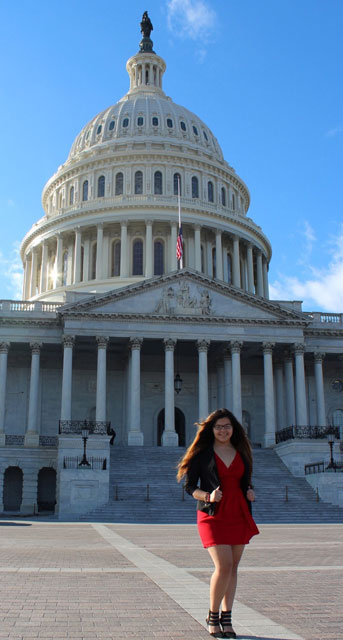 When Cynthia Romero graduates this weekend, she will fulfill her parents' lifelong dream of earning a college degree. But her college diploma is just one of a long list of accomplishments: president of MECHA, a Chicano students association; recipient of the prestigious Mellon Mayes Fellowship; and intern with U.S. Rep. Linda Sanchez.
Romero is even more excited about what she is going to do next: teaching kindergarten at Wayne Elementary School in Las Vegas as an educator with Teach for America.
As someone who started school not speaking English, the native of Camarillo, Calif. knows what it's like to need extra support. She got good at asking for help, as did her mother, who would get advice from the women whose houses she cleaned, said Romero, on "everything from first-grade homework assignments to what is the FAFSA."
At UC Riverside, Romero participated in undergraduate research and mentoring programs that honed her teaching skills. A year spent in the nation's capital with the UC Washington Center sparked her interest in pursuing a career in public policy — where she hopes to help develop legislation aimed at undocumented students and English Language Learners.
"Before, I felt like I never fit in with any group," said Romero. "At UC Riverside, there are a lot of other students like me. I picked up close friends and a few life mentors along the way. "
Learn more: https://ucrtoday.ucr.edu/47368
Jocelyne Fadiga, UC Merced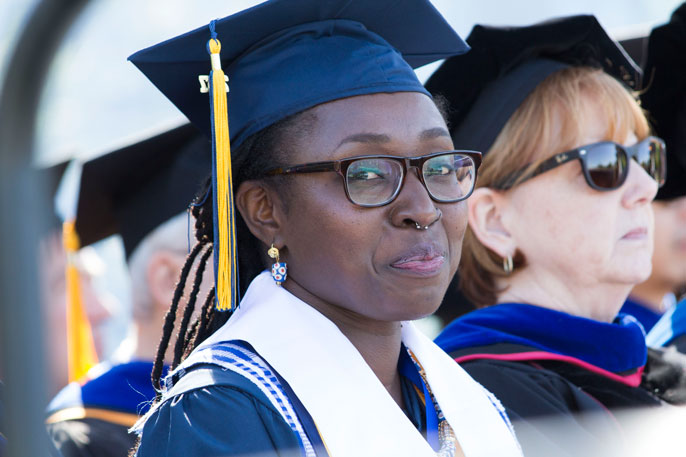 Born in the Ivory Coast as the youngest of 13 children, Jocelyne Fadiga struck out for the U.S. with little more than a desire for opportunity beyond the borders of her native country. She seems to have found it: Last month, the chemistry major represented UC Merced's largest graduating class ever as the student commencement speaker.
Upon settling in Oakland when she arrived in the U.S. eight years ago, Fadiga struggled to adjust, learn the language and make a living. She dealt with hunger, homelessness and depression. But her life took a positive turn when she enrolled at Peralta Community College.
As a transfer student, she was drawn by the supportive community at UC Merced, where she was able to do undergraduate research, present at conferences and work as a lab assistant. She also mentored newly arrived transfer students and local youth struggling to stay in school and complete their high school diploma.
Today, Fadiga is already getting settled in at graduate school, doing research on stem cells at UCSF.
"I'm very proud of myself," she said. "Beyond the degree that I'm getting, I'm also proud of the person I've become."
Learn more: http://www.ucmerced.edu/news/2017/student-speakers-share-desire-make-difference